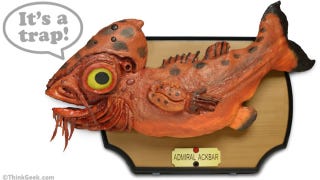 Alright, it may be a Sunday, but it's still April Fools' Day, a very special day in video gaming, and many of its companies, studios and merchants are pulling hoaxes and stunts, and making gag announcements. So let's round up as many as we can here!
MetaMeta Critic (Paradox Interactive)
The developer of of PC games such as Crusader Kings (and Lead and Gold on PlayStation Network) has an even better idea than Metacritic: Meta-Metacritic, which is "an all-new platform to objectively quantify the art of games journalism." Yes, there is actually a site, yes, actual writers are 'reviewed' there and yes, there are reader reviews. For example, our friend and colleague Leigh Alexander (written up by "Bulba Soar"): "so yah cody and i had a fight over her mass affect 3 feature and now pa says we can't go in the shed anyway because he keeps his special private things there and says the police would..."
According to a release from Paradox "This new system will provide game-enthusiast enthusiasts with a better overall concept of these writers, and allow them to make easy read/browse/troll decisions before spending their hard-earned unique pageviews.
Thank God I am not listed.
---
Retro City Rampage: The Cereal (Vblank)
Bad VHS tracking lines are the icing on the cake for this superb homage to cheesy 1980s cross-marketing and grody cereals. "Move over Ecto-Cooler! The OFFICIAL Retro City Rampage Breakfast Cereal is here!" says the game's maker, Vblank, in a statement. This video is outstanding. I totally lose it at 1:07. So good, I will gladly toss a link to the game's official page. Retro City Rampage is eyeballing a May release as a console and PC downloadable.
---
Admiral Ackbar Singing Bass (ThinkGeek)
Thing about ThinkGeek's hoaxes, they usually come true (iCade, Tauntaun sleeping bag). The Admiral Ackbar Singing Bass is half as useful and twice as awesome as any of them. Cribbing on the "Big Mouth Billy Bass" gag gift you've seen in basement rec rooms nationwide, this product claims to play the Creature Cantina song and, yes, say "It's a trap!" As always, you may vote on which hoax products you really do want to see. This year's roster includes the Skyrim Electronic Dragon Shout Hoodie and Minecraft 'Creeps' a riff on the "Peeps" marshmallows that are the leading name in terrible Easter basket candy.
---
Sega Bass Fishing of the Dead (Sega)
This is a delightful video, but it's tough to laugh at it in light of what happened to Sega of America on Friday. Sort of bittersweet, really. I'm guessing Bass Fishing of the Dead is officially canceled, too.