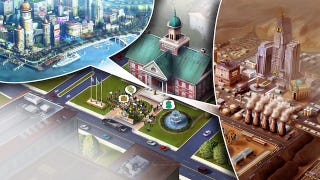 A few weeks ago, EA pulled a bait-and-switch at a press event in San Francisco. My fellow reporters and I were there to see the reveal of SimCity, but after the brief game announcement, the event organizers cued up a series of sit-down talks by prestigious activists including Davis Guggenheim, director of An Inconvenient Truth and promoter-turned-charity: water activist Scott Harrison. Oh man, were we grumpy and bored! Many, myself included, bailed after Guggenheim.
In theory, this should have been an interesting, engaging evening. A real change from your average bombastic-trailer-then-open-bar video game press event. But it was none of those things. We hadn't seen enough of the game to understand if and why the speakers were relevant. As a result, the whole thing felt incongruous. Now that I've seen more of the game and spoken with the people making it, the whole thing still feels incongruous.
Don't get me wrong— SimCity looks like a fun game. It fits well into the lineage of the SimCity franchise, and it's grown more expansive and detailed than ever.