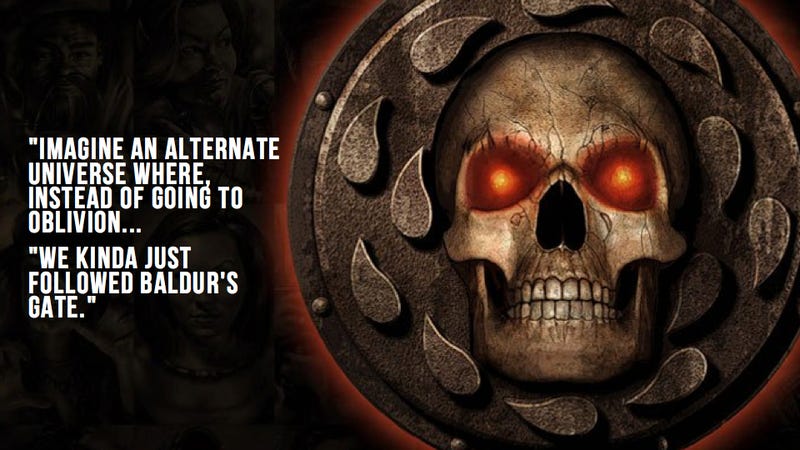 Classic Western role-playing games are hard to find these days. The most successful ones are chimeras, like Mass Effect 3 and The Elder Scrolls V: Skyrim, games that graft a role-playing game's quests and statistics onto shooting or action-based mechanics. Even party-based RPG series like Dragon Age can't seem to emulate that thrilling classic notion that every move matters, that if you don't outfit and command your party properly, you will die quickly and in brutal fashion.
Those games all have their pros, but Cameron Tofer and the development studio he co-founded, Beamdog, want to go back to the classics. They want to revisit the realm of top-down, party-based, strategy-packed role-playing games, revered titles like Planescape: Torment and Baldur's Gate. They want to make new RPGs and restore the glory of the classic ones.
"Imagine an alternate universe where instead of going to Oblivion and all that, we kinda just followed Baldur's Gate," Tofer told me on the phone yesterday.
It's a hypothetical future that could still be a possibility, depending on the success of the enhanced editions of Baldur's Gate and Baldur's Gate II, which Beamdog will release this summer for iPad, PC, and other platforms to be announced later this week. If those games do well, Beamdog will move on to what Tofer says will be "the next logical step, whatever that may be."
Baldur's Gate 3? Planescape: Torment 2? Completely new games using a modern version of the old isometric Infinity Engine? It's hard not to salivate at the possibilities.
Still, Tofer has to find an audience first. The vision of a classic-packed future will live or die based on the number of fans that come out to get their paws on these old RPGs.
So Beamdog is beefing up both games. Both Baldur's Gate and Baldur's Gate II will ship with new interfaces, unreleased content, and completely new characters, quests, and kits (classes).
"Baldur's Gate is all about story," Tofer said. "There's a real depth to it all. So we've created not just a character kit, but a character, with a history and story and items... with that you get an adventure. There are new items, new areas to play in."
"Baldur's Gate is all about story. There's a real depth to it all."
Both games will come with their respective expansion packs, Tales of the Sword Coast and Throne of Baal. They'll both have multiplayer and each will sell for less than $10 on iPad. They won't be released simultaneously, though—Baldur's Gate II will be out "shortly" after its predecessor launches this summer.