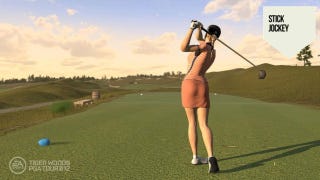 For years, EA Sports' Tiger Woods PGA Tour series has allowed gamers to create female golfers and play with them, even against all-male tournament fields, on any course and in any of the events licensed to appear in the game. Last year, Tiger Woods added The Masters Tournament, the event hosted by Augusta National Golf Club, notorious for its all-male membership.
It took nearly three years and constant negotations with, assurances to, and approvals from one of the most conspicuously conservative institutions in sports, to finally bring that course and event to a video game. Was there ever a conflict between the video game's female-inclusive career mode, and the fact no woman has ever participated in The Masters, a tournament run by a club whose membership policies specifically exclude them?
"Not at all," said Craig Evans, the senior liaison between EA Sports' Tiburon studio and Augusta National for the Tiger Woods PGA Tour series. "Because we knew that qualifying for The Masters Tournament has nothing to do with gender."
As strange as that may sound, it is true. There is no gender proscription in qualifying for The Masters. Among other bids awarded, The Masters gives an automatic qualification to the current champions of five tournaments, none of which prohibit women from entering. One of those tournaments is the U.S. Amateur Public Links. Michelle Wie advanced to match play in that tournament in 2005, as the first woman golfer to qualify for a United States Golf Association national men's tournament. Had Wie won that tournament, she would have played against men at Augusta.
"Augusta had no concerns about that, whatsoever," Evans told me. The club does not prohibit women outright—they play as guests of members all the time, and there are only two tee boxes, Masters (the longer) and members (the shorter). No ladies' tees, in real world or the game.
"Their concerns were more like, a golfer wears a bunny suit when you play Augusta National. They were concerned more with things like fanciful gear in our customization options. When it came to who was playing—our created players, be they female or male—they just wanted them to be dressed professionally."
I thought about this a lot over the past two weeks, beginning with an excellent question from one of our readers, through to the arrival of Tiger Woods PGA Tour 13 for me to review. The reader, a diehard baseball fan, acknowledged her impossible dream of ever making the major leagues. Yet it was no less realistic than the one I harbored as a scrawny, .200 hitting teenager on my high school nine. Her point has no legitimate refutation: If my ultimate sports fantasy is just as unattainable as hers, why do I, as a man, get to create myself in a video game and live it out there, yet she does not?