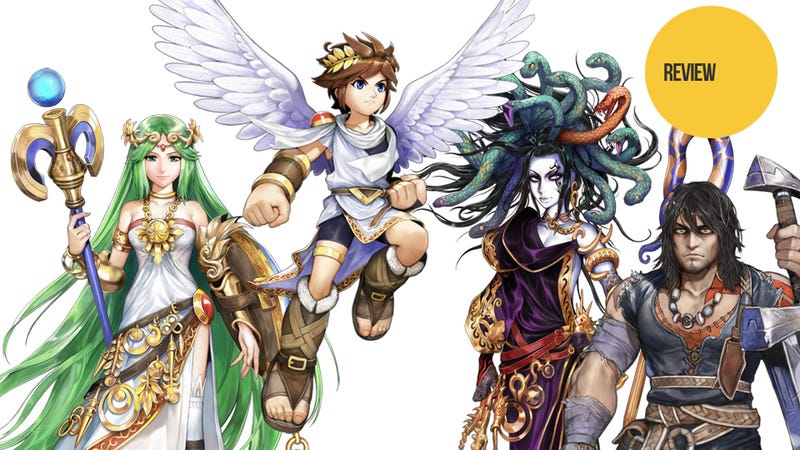 How much to we value weirdness? How much weight do we place on eccentricity? There are so many video games that are essentially retreads of the same old tired space; it can feel so nice to see a game that, even while following the same basic formulas as its brethren, does so with enthusiastic weirdness.
Kid Icarus: Uprising is just such a game. While at its heart, Uprising is an arcade shoot-em-up no different than countless quarter-eaters from the arcades, the game plays that role with such chutzpah, creative flair, and straight-up oddness that it's hard not to be won over.
Kid Icarus: Uprising is the story of an angel named Pit and his mentor Lady Palutena, the Goddess of Light. At the start of the game, Medusa has somehow harnessed the forces of the underworld to try to take over the planet. It's up to Pit and Lady Palutena to stop her. What follows is a spiraling, barely coherent story that feels something like a Disney movie as retold by an excited eleven year-old.
"And then, they went into Pandora's Labrynth, because she was this huge purple gas-monster of illusion! But after they defeated her, they flew through this desert, and it was like oh man!, there was smoke everywhere, and these giant floating eyeballs showed up, and then Hades turned up and was like 'You better look out!' because see, he had been in charge the whole time!"
It gets crazier from there, believe me. The single-player story takes place over 25 three-act missions. I've completed 15 of them, and each one I've seen plays out over the same basic template. First there's an aerial mission in which Pit flies while shooting oncoming enemies and dodging fire, then a ground-based mission in which he runs around while shooting before engaging in a boss battle.
WHY: Kid Icarus: Uprising makes up for its uncomfortable controls by providing a huge amount of enjoyable content, and doing so with charm to spare.
---
Kid Icarus: Uprising
Developer: Project Sora
Platforms: Nintendo 3DS
Release Date: March 23
Type of game: Fast and frantic stylus-based arcade shoot-'em-up with a huge amount of collectables and unlockable weapons and power-ups.
What I played: Completed 15 of the 25 story missions, replaying several on different difficulties. Played several rounds of each type of multiplayer. Spent an intense amount of time messing around in the various menus.

My Two Favorite Things
Groaning over one of the game's many dumb jokes before realizing I was enjoying myself.
Finally unlocking a great weapon in multiplayer and using it to wreak havoc in my next single-player mission.
My Two Least-Favorite Things
Playing it with a fever and feeling as though I was slowly losing my grip on reality.
Accidentally lunging to my doom more than ten times in one particularly frustrating platforming section.
Made-to-Order Back-of-Box Quotes
"It's only annoying at first!"
-Kirk Hamilton, Kotaku.com
"You'll laugh, you'll cry, you'll need to take frequent breaks to stretch out your hands."
-Kirk Hamilton, Kotaku.com
"I sure showed that giant disembodied elephant-head who's boss!"
-Kirk Hamilton, Kotaku.com
In the hands of anyone but the terrific (and idiosyncratic) game developer Masahiro Sakurai, Kid Icarus: Uprising could have been a run-of-the-mill third person shooter, with some on-rails flying bits broken up with some God Of War-style ground bits. But this game was made by the Super Smash Bros. and Kirby mastermind, and so it is absolutely stuffed with wild flourishes and curlicues that set it apart.
For starters, there's the controls. Uprising isn't controlled as a twin-thumbstick shooter—even though it is technically compatible with the 3DS' mostly great Circle Pad Pro peripheral, there is no setting that lets players control it like they would a "normal" console game, with movement tied to the left circle-pad and aiming tied to the right. It's a very curious omission, since that setup is almost possible by re-arranging the controls, but not quite. So, the most natural type of control is to set things with Pit's motion handled with the circle-pad while the aiming reticle is controlled with the stylus.