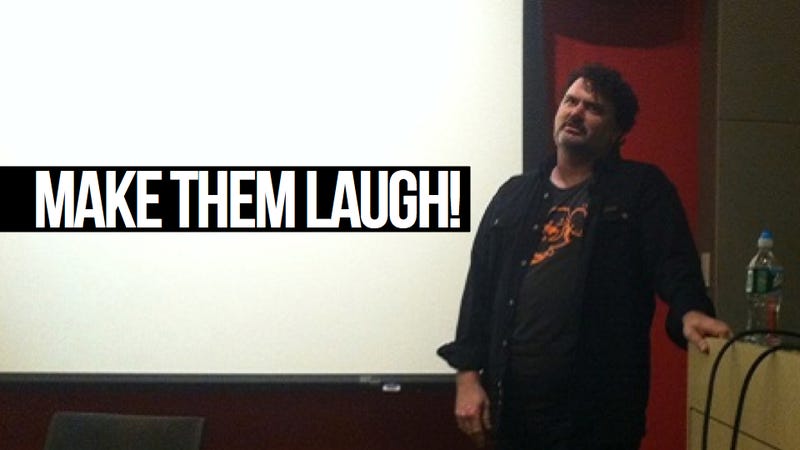 Tim Schafer wants more video games to make you laugh. The legendary designer behind Grim Fandango and Day of the Tentacle thinks comedy is necessary and not enough games are doing it right. Or even trying.
Speaking to some two hundred people at the NYU Game Center Thursday night, Schafer shared his thoughts on the current state of the gaming industry, discussing the nature of adventure games, his personal favorite titles, and that one important tool that many developers fail to use: humor.
If you go and ask a game development team why they're not making funny games, the Psychonauts creator said, half-joking, they'd say it's because nobody's made one that sold very much. "Comedy's really scary," he said. But it's also really necessary.
"If the game is not funny, you're missing something," Schafer said, telling the crowd how he used comedy as a tool to solve problems in The Secret of Monkey Island. While working as a programmer/writer for developer Lucasfilm, Schafer was tasked with writing the scene where protagonist Guybrush Threepwood and Governor Elaine Marley meet on the beach and fall in love. In five lines.
"You can't write a serious scene that has a pirate and a governor fall in love in five lines," Schafer said. "Humor is a tool to cover up the fact that this is not a solvable problem."
So he wrote the scene as if it were a joke, peppering the dialogue with terms like "honey pumpkin" and "plunder bunny." Without that humor, it wouldn't have worked. But by playing it up to absurd proportions, Schafer was able to throw logic under the rug and leave players laughing instead of scratching their heads.
Schafer, who has made headlines recently for his monumentally successful bout with crowdfunding site Kickstarter, didn't give any specifics on his new $3.4 million point-and-click adventure game, though he did assure the crowd that it will be in 2D (because it's cheaper). He promised that it would be true to the nature of adventure games, as nostalgic Kickstarter backers might demand. But it will also have new ideas, he added—because "people like to be surprised."