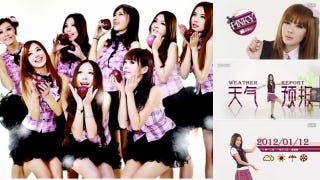 Last December, Guangdong Satellite TV Station introduced a change to their regular weather broadcasts. Instead of stuffy meteorologists or on-air reporters reporting the changes in the weather, they hired a group of undergraduate Chinese girls.

The group, called Pin-Ko Pie, is made up of nine college girls who have "modeling" experience. These nine girls take turns reporting the weather daily—basically one girl for every day of the week and two extra for emergencies. They do also act differently depending on holidays, change of seasons or special occasions. So far only seven out of the nine girls have been on the air. Their name is actually supposed be a play on the Chinese pronunciation of Apple Pie, which in Mandarin reads "Ping Guo Pai" (苹果派).
Conceived as a marketing ploy to get more viewers to watch Guangdong Satellite, the broadcast will have the girls show up on air dancing and doing cute/sexy poses in front of the camera, they would sometimes talk about weather and news related topics but in a sickly sweet voice.
The majority of the broadcast is pretty much just the girl on duty dancing and striking "cute" poses. Nearing the end of their minute, there would be a voice over or sorts, one would expect the voice over to be weather related but instead it's usually babble about what the girls like to do or how they are feeling. The only way to get a weather report from these broadcasts is to watch the screen graphics closely, and even then the weather is hard to decipher as the girls are very distracting.
Guangdong Satellites weather "reporting" Pin-Ko Pie group draws a lot of similarities to trends that originated from Japan, Korea, and Taiwan. One of the most recent examples actually is Next Media's Weather Girls from Taiwan.