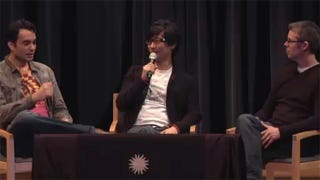 The Smithsonian American Art Museum celebrated the opening of its new exhibit, The Art of Video Games, this weekend with GameFest, three days' worth of entertainment and panels with game industry notables. On Saturday, the museum featured a one-hour talk with game design legend Hideo Kojima of Metal Gear Solid fame.
Kojima's mere entry into the auditorium was greeted with a standing ovation from enthusiastic fans, many of whom had waited outside the museum for hours before opening despite already having tickets for the sold-out talk. Moderator Chris Melissinos, the exhibit curator, asked Kojima a number of questions about gaming's past, present, and future.
Melissinos at one point posed a question that in many ways summarizes the entire art and industry of game design and many debates players have over their favorite series, asking, "Some artists struggle having to balance the commercial interest with their creative desires. How do you maintain this balance and make sure your games are yours?"
Kojima responded that his role as producer exists to make sure creativity takes top priority in the design process and described a bit how he came to the role, saying:
Well honestly, there are only 24 hours in a day. If I could, I would love to use all those 24 hours as creative time, creating a game. But I think in order to create something truly great, you have to create the environment that allows people to create freely. And in order to accomplish that, I decided that I had to become a producer, that becoming producer would allow me to create the teams that I wanted to create.

So, you know, part of the idea is, one, I wasn't a producer, so I was very bound by dates and budgets. I had no control over hiring people, I had no control over budget, a lot of times I didn't really know where the deadlines came from, so I really didn't have that power that I wanted.

So I think there may be a lot of people here in the audience who maybe want to produce a creative type of occupation, whether it's games or something else, and I think if you have a great supportive producer there, who can encourage you and bring that creativity out of you that's great, but if there isn't a person like that, then I think really it's up to you to take the leadership and become a producer yourself.

But then of course to become a producer, and maintain your position as a producer, you have to know business. You have to look at the business aspects, keep multiple lines of things running at once, you have to be very organized, keep track of the budgets and whatnot, so I think it's very important to have that skill. But what I want to emphasize, though, is that that role as a producer, that's only to facilitate creativity. So creativity and creation is always priority number one, and I've become a producer to support that creative endeavor, and in order to support my role as producer I've studied the business. But priority is always on creation.
Kojima also confirmed that yes, he intends to keep making games and is currently working on what he hopes will be his "great accomplishment." But when asked what the future holds for video games, his response wasn't about his own projects at all. Instead, he focused on the impact games and interactive entertainment have on the world at large. The creative technology developed for gaming, he explained, has uses well beyond entertainment that we're only just now starting to investigate: