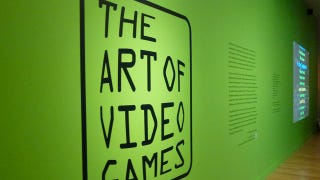 This weekend, the Smithsonian American Art Museum in Washington, DC opened the long-awaited exhibit The Art of Video Games.
Walking into the museum, one immediately feels the whispered air that says: this is the home of Serious Art. Museums like the Smithsonian take much from our everyday lives and set it aside, defining it as special. From the giant marble columns flanking the F Street entrance to the quiet, respectful hush filling most of the galleries, the American Art Museum in many ways mimics a cathedral. There is something almost sacred about the space where over two centuries' worth of painting, sculpture, folk art, and more are displayed. And there, at the front information desk, is an enormous stack of maps and programs bearing an iconic and lovely screenshot of The Illusive Man from Mass Effect 2.
Fans had the chance to vote during the spring of 2011 on which 80 games would ultimately appear in the exhibit. In the end, these titles are arranged into four categories based on very loose genre and mechanical definitions. All games, it seems, can be summed up as "Action," "Target," "Adventure," or "Tactics." The groupings end up defining some things as "like" that a player might not expect, finding, for example, Pitfall!, The Legend of Zelda, and Heavy Rain all grouped together as "adventure."