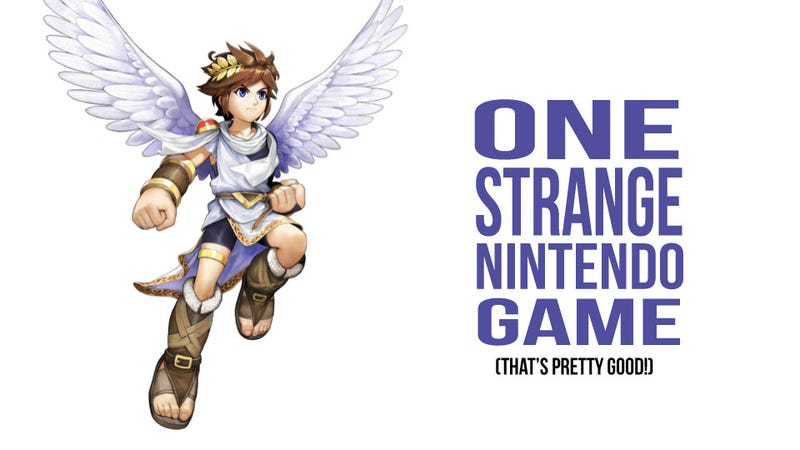 Kid Icarus: Uprising is Nintendo's big 3DS game of early 2012. Hyped since the early days of the 3DS as one of the major titles for the system, we've now been able to play the finished game.
It's fun. It's weird. No, it's very weird. We're not ready to review it just yet. We want to give the game some time to marinate and we want to be able to talk to you about the game in its entirety when we've had enough time with all its modes.
But we've got to tell you something. So here we are. Me and Kirk Hamilton, who will be reviewing the game. He and I played some multiplayer online against each other on Sunday afternoon. And then we jumped on IM and chatted about the game.
Here's what we had to say about one of the strangest and most interesting Nintendo games in a long time...

Kirk Hamilton, future reviewer of Kid Icarus: Uprising: Okay! Let's talk about Kid Icarus Uprising. There is a lot to get to.
Stephen Totilo, occasional player of Kid Icarus: Uprising over the last year.: Yes. let's go. Kirk, this game is insane.
Kirk: I hear you. The menus alone are enough to make a guy dizzy. I skipped the tutorial and got straight into the game, which I think may have been a mistake.
Stephen: Menus? We can't even talk about all the menus. Nintendo sent us both copies, but, remember, some of the menus—the menus!—are supposed to be secret until release day.
Kirk: Oh, sorry! Yes, let's keep things by-the-book. Only approved menus will be discussed here.
Stephen: The tutorial is great. Because it's full of jokes!
Kirk: The whole GAME is full of jokes. So many jokes! Whoever wrote this had a whole lot of fun.
Stephen: Right. I wasn't expecting a comedy. But it's funny. Did you find the spa scene?
Kirk: I found a hot springs...
Stephen: I think that's the one. Where Pit is mocked for jumping into the hot springs fully-clothed.
Kirk: Yes! There's this weird sexual tension between him and Lady Palutena.
Stephen: Yeah! This is such a surprising Nintendo game in so many ways.
Kirk: Yeah, the writing is really unlike anything I've seen in a Nintendo game before.
Stephen: I was thinking back when I was playing Metroid: Other M that if THAT was how Nintendo was going to do voice-acting, I didn't want them to do it. But this is sooo much better. Tons of voice, all hilarious.
Kirk: It's interesting how there are no cutscenes either—they just exposit super-fast while you're actually playing the game.
Kirk: It keeps things moving along, though it can be a bit chaotic at times.
Stephen: I agree. So I have to say that this game is a textbook example of a game seeming really different once I play it on my own time.
Kirk: How do you mean?
Stephen: I played it a few times over the past year-plus at Nintendo events. And while I got the basics — an airborne shooter that turns into a ground-based brawler-shooter in level after level, I didn't really appreciate that it is meant to be played more like, well… Smash Bros.. Like it's a total arcade game that's all about mixing and matching powers and abilities and unlocking tons of gear. And prizes.
Kirk: Yeah, I see what you mean. Playing it at that hands-on I did earlier this year was similar—I had all these questions about the particulars of how everything works, but you can't get your head around that until you spend a good amount of time actually doing it. It's the kind of game that lives and breathes in the insane amount of collectibles and unlocks.
Stephen: And yet it still has some of the weirdest controls ever. And Nintendo has made them even weirder by including that ridiculous stand. That thing is useless. Totally unnecessary.