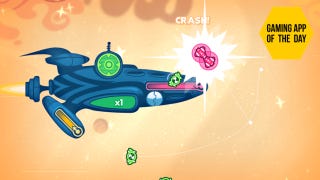 Flight Control was such a simple, enjoyable, universally acclaimed mobile game, it compelled the boss—and I don't mean Totilo, I mean the boss—to write a review of it two years ago. He came back from his safari in the messy backcountry of video game criticism with a nice trophy, too. Me, however, I get to deal with the sequel, a gobbed-up, what-the-hell, coin-operated unhappy meal slid across the fast-food counter of the iTunes App Store.

Yeah, Flight Control Rocket offers a greater variety of aircraft (or spacecraft) with a greater variety of behavior. You can land a hell of a lot more vessels in it than its predecessor, too. Dragging a vessel into its proper landing approach also kicks it into a faster gear, which is a nice variable that helps your traffic management when things really get hairy.
But for me, a guy who has killed the clock with Flight Control on San Francisco's 10:20 redeye to Charlotte, Rocket holds very little of the charm, and none of the map variety, of its predecessor. It's hard not to see Flight Control Rocket's complicated, monetized design as anything but the thumbprint of Electronic Arts, which acquired Flight Control maker Firemint about a year ago.