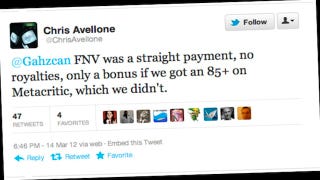 Last night, Obsidian's Chris Avellone tweeted an interesting detail about his roleplaying game Fallout: New Vegas.
"[Fallout: New Vegas] was a straight payment, no royalties," he said in response to a fan question about the game's financial success. "Only a bonus if we got an 85+ on Metacritic, which we didn't."
Metacritic, an aggregation website that collects scores from selected review sites and compiles them as a weighted average, currently lists the Xbox 360 version of Fallout: New Vegas at 84 (out of 100). The PC version is also listed at 84. The PlayStation 3 version of the game is listed at 82.
In other words, Obsidian may have missed its bonus and lost out on a significant amount of money because of a single point.
We've reached out to New Vegas publisher Bethesda, the company that financed the game, to try to confirm Avellone's statement, but they would not comment. If the New Vegas designer's tweet is accurate, then Bethesda put a portion of Obsidian's financial fate in the hands of a select group of game reviewers.
Finances have been an issue for Obsidian—earlier this week, the independent studio had to let go of 30 staff because a game it had been developing for the next Xbox was cancelled. So a potential Metacritic bonus may have been no small matter.