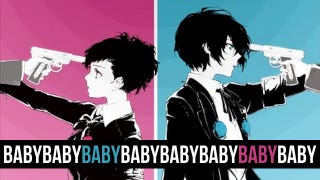 When I think of epic JRPG battle music, I usually think of driving guitars, pulsing drums, and soaring melodies. I do not, generally, think of weird funky hip-hop and a lady singing "Baby, baby, baby, baby" over and over again.

And yet that's exactly what Persona 3's battle music is, and damned if it isn't fantastic. In fact, this game's entire soundtrack is one of the best I've heard in recent memory.
Over the last month or so, I've finally been addressing my Persona blind-spot, sinking a ton of free time into the PSP version of the game (played on my Vita, naturally). I am in full-on, hearts-on-fire love with this game. I will have more to say about it once I finish (and yes, I do plan to finish, 100-hour length be damned). But for now: Music.
Persona 3 is basically "Surviving High School meets Buffy the Vampire Slayer meets a hardcore JRPG." Anyone who knows me at all knows this is... well, it is a game that is very much "for me." I've even written about how I want more games set in high school, and the fact that I wrote that without playing Persona first is, yes, a huge oversight on my part.