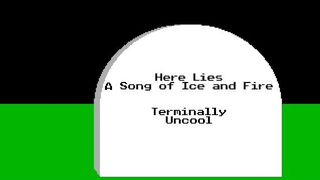 Somewhere along the line, it happened. The name changed. George R.R. Martin's celebrated fantasy series A Song of Ice and Fire more-or-less officially became known as Game of Thrones.
We can probably blame HBO; their hugely successful TV series Game of Thrones is what launched Martin's books into the public consciousness. Since the show's debut, A Song of Ice and Fire has been relegated to status as a footnote during a credits sequence, or a small note on the box.
Now we have board games, card games, video games of every stripe, and all manner of memes, merchandise and miscellany, all under the Game of Thrones banner. But how did this happen, and why?
The first book in A Song of Ice and Fire, titled A Game of Thrones, was published sixteen years ago. Since then, Martin has published four more books, and each entry has won him more fans. But everything changed with the arrival of the 2010 HBO series. That show, of course, was called Game of Thrones. It wasn't called A Song of Ice and Fire: Game of Thrones; it wasn't even called A Game of Thrones like the book. Just Game of Thrones.
Soon after that we got the announcement of several video games, the real-time strategy game Game of Thrones: Genesis and the upcoming Game of Thrones RPG based on the property. We've also got a Game of Thrones card game, as well as the hugely complex and diabolically fun Game of Thrones board game. That the board game in fact concerns characters introduced in the first three books doesn't matter; Game of Thrones is no longer a book; it's a brand.