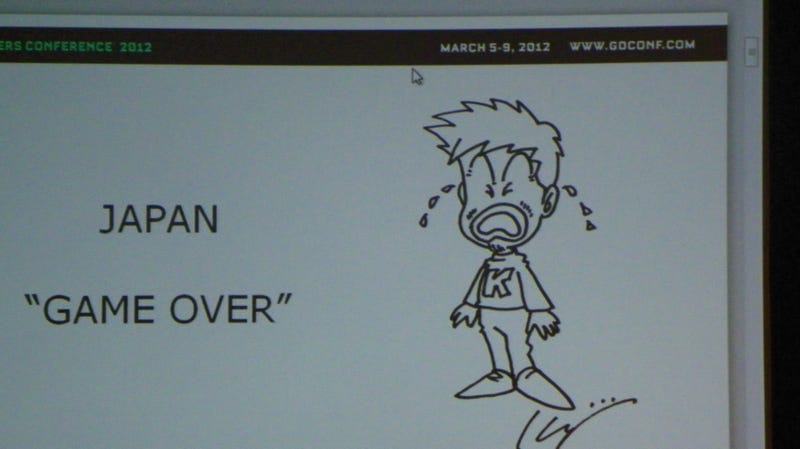 Keiji Inafune sounded an ominous note at the beginning of his presentation during the Game Developers Conference last week, saying to the audience that "there might be some harsh comments, so please be prepared." Turns out the trigger warning from one of Japan's most respected game designers was warranted as he criticized the mindset that's crippling present-day Japanese game development.

During his hour-long session at GDC, Inafune said that he feels like people look at Japanese games as a thing of the past. Titles from his homeland are like the Beatles, Steve McQueen or a 1968 Corvette, he offered, just great memories of former glories. "It's like we're in the Edo period, dressed up in topknots. There's a limit to how far you can go on just those memories. The Beatles will never put out a new song with all four members; Steve McQueen's not going to release a new movie."
"So we just stick to our memories and up-rez a game to ship an HD version," Inafune continued. "Japan has brand power but not people who will pour in effort. They've coasted and not made anything new. It'll be too late when the brands hold no equity. I walk around and am fortunate to have fans say Mega Man! But those fans don't just want Mega Man. They want something more."
Thoughts like this aren't new from the longtime game-maker. Before Inafune left Capcom two years ago, he'd railed against the games coming out of Japan. He's started two new companies—Comcept and Intercept—since then, and has been thinking about how his future games can become globally successful. I interviewed Inafune after his GDC talk and he spoke about how he's trying to move things forward, as well as agreeing with Fez creator Phil Fish's controversial comments about Japanese games.