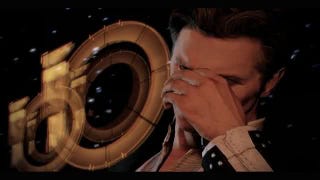 My opinion of Internet petitions remains unchanged: They are worth the paper they are printed on. (Hint: They are not printed on paper.) They're a manifestation of the distorted expectation—cultivated in grade school—that First Amendment rights extend to your relationship with a private business.
That said, there's a particularly amusing poll out there, gathering 20,000 votes, demanding BioWare change the ending to Mass Effect 3. We've had our tips jar blown up with links to this movement. I have no idea where to begin with this.
Let's try to think of how BioWare, if it complied with this demand, would deliver such an alternate ending: Through DLC. That everyone would expect to be free—with all of the writing, voice acting and motion capture that a proper conclusion deserves. But at least we could be sure that it was developed after release! Oooh, but what if it uses characters that are already on the disc?
I think this is the sentiment that Christina Norman meant to impugn with her comments at GDC. Gamers are customers, yes. Customers' opinion of a product absolutely matters, and the maker of it absolutely should pay attention.