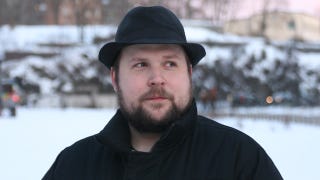 The British Academy Video Game Awards will award Minecraft creator Markus "Notch" Persson with its "Special Award" at this year's ceremony, it said today.
The annual BAVGA (ok, so it doesn't have as nice a ring to is as BAFTA) ceremony—presented by the British Academy of Film and Television Arts—doles out awards to deserving games and game makers every year. The Special Award is awarded to Persson for his creativity and the outstandingly successful Minecraft.
It's no surprise that Persson was chosen amongst the crowd of talented developers in the video game industry. After passing 20 million users and playing host to some of the most creative, robust worlds designed by said players, Minecraft continues to receive attention. Cute LEGO figures and a multiplayer-outfitted game on the 360 platform are just among the more notable ones.