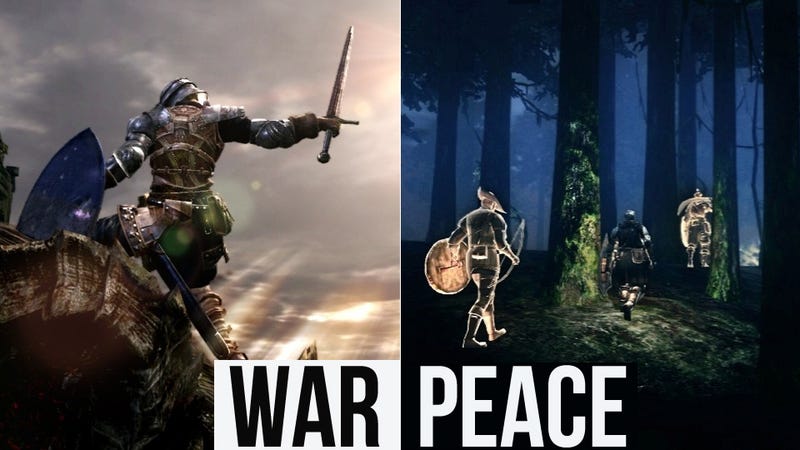 You wanna know a really good way to piss people off? You could try telling them that 100-hour video games are a waste of time. If you do that, expect what you might call an editorial beat-down from one Jason Killingsworth.
The Edge Magazine features editor has ripped into journalist Michael Thomsen for the latter's Slate article questioning whether 100-hour games, and Dark Souls in particular, could ever be "worthwhile."
"Thomsen may aspire to do nothing more than give Dark Souls a few reciprocal lashes as payback for its cruel gauntlet," Killingsworth writes, "but his article pulses with disdain for the videogame past-time in a far broader sense."
With that, he proceeds to go to town on Thomsen's essay, dismantling it in a manner both thorough and well-articulated. Thomsen's core folly, Killingsworth writes, is his overarching desire to compare a game like Dark Souls to more "worthy" pursuits like reading War and Peace, learning a foreign language, or traveling across the country.
Let's talk about Tolstoy. Thomsen repeatedly invokes the venerated Russian novelist's War And Peace to describe a work of art that proves the shallowness and triviality of Dark Souls. This hits below the belt for a multitude of reasons. False equivalence is always a nasty, misleading business. How many times have you heard somebody claim that a particular movie was good but the book from which it was adapted is far better? After my eyes return to their uncrossed position, I'm always tempted to ask, what aspect of the book's cinematography did you find superior? Was there something more lyrical about the book's orchestral score? Did the characters in the book offer more believable performances? What about the book's costume design? Makeup? Lighting?

Though it's possible to debate whether or not games are art, there's no room to argue that games are books.
And as Thomsen cites cross-country travel and language-learning as better alternatives to 100 hours in Dark Souls, Killingsworth points out that in many tangible ways, to play Dark Souls to completion is to learn a language, it is to traverse a country.
Killingsworth's essay is a rousing critique (and, I'd say, demolishment) of another writers' work, sure, but it's also an earnest celebration of what makes Dark Souls so good. Reading it, I was reminded of Chris Dahlen's terrific, lengthy essay about the design language of Dark Souls' Sen's Fortress level.