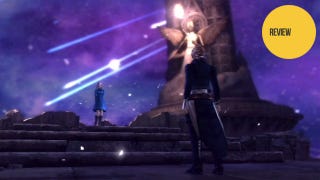 In 1987, a young director by the name of Hironobu Sakaguchi was charged with making a game for his small game company, Square. Up until this point the company had had moderate success with racing and platforming games, but it was clear to all that Sakaguchi's game was likely to be his—if not the company's—final project. And as he had always wanted to make a fantasy game along the lines of Ultima and Wizardry, he named the game Final Fantasy.
Ironically, the title ended up not only revitalizing the company but also spawning one of the best-selling series of all time. Now 25 years later, Sakaguchi has returned to that mindset, once again working as if he was making his final game. But can this new game recreate his success of old, or will The Last Story live up to its name?

The Last Story follows Zael, an orphan mercenary who dreams of becoming a knight. When he and his fellow mercenaries come to Lazulis Island, a profitable trading port on the edge of a sprawling empire, they find themselves thrust into the middle of an ancient mystery even as a long-banished foe returns from across the seas.
While the plot comes complete with all the common JRPG tropes—dungeons, damsels in distress, prison escapes, pirates, love stories, haunted houses, and, of course, sewer levels—it's the way The Last Story is told that makes it unique. Unlike most RPGs, The Last Story is far more a character-driven narrative, than a plot-driven one. This means that the story is less about moving towards a goal (e.g., saving the world) and more about seeing how the characters change, grow, and act when thrown into complex situations. Thus, it becomes a far more intimate adventure than most, where you are meant to care on an emotional level about Lazulis Island and its inhabitants just as much as your party members.
Another unique plot element is that The Last Story produces an actual love story. Often Japanese tales of romance finish with the characters finally admitting they love each other—as if that's the end of the story. The Last Story, on the other hand, crafts a love story where the question of romantic attraction is answered early on, and all that keeps them apart are the societal obstacles that the two fight to overcome. In other words, it presents a true romantic epic instead of a series of love triangles strung together through misunderstandings and teenage angst.
The story itself is told through a series of 44 chapters that take about 30 hours to complete. While long stretches of the game are linear, every few chapters you a presented with a hub of some sort—most commonly Lazulis City. From these hubs, you can embark upon a myriad of sidequests, backtrack to previous areas, or just explore the city and castle. It is even possible to do many chapters out of order or even skip them entirely (though you'll be doing yourself a great disservice if you do).
WHY: Because it takes all the best things from old-school RPGs and brings them into a modern format.
---
THE LAST STORY
Developer: Mistwalker / AQ Interactive
Platforms: Nintendo Wii
Released: January 27, 2011 (Japan), February 23, 2012 (PAL), June 19, 2012 (U.S.)
Type of game: A Japanese RPG with action-RPG elements.
What I played: The entire 44-episode story and all side quests I could find along the way (approx. 30 hours). I also beat every boss in the online co-op mode and played several matches of the online versus multiplayer.


My Two Favorite Things
Seeing an actual love story in a video game instead of two angsty teens lusting after each other in a relationship that doesn't even begin until the final credits roll.
A combat system that was neither turn-based nor MMORPG-like and was an enjoyable experience to just simply play.
My Two Least-Favorite Things
Wasted Potential. The multiplayer could have been expanded into so much more than just a tacked-on afterthought.
That it ever ended.
Made-to-Order Back-of-Box Quotes
"The best Final Fantasy in a decade!" -Richard Eisenbeis, Kotaku.com
"The next evolutionary leap for JRPGs." -Richard Eisenbeis, Kotaku.com
The Last Story goes for a battle system more inspired by action-RPGs than turn-based or MMORPG styled systems. Battles take place in real time but combat is not controlled by pushing a designated attack button. Rather, you attack by tilting the thumbstick in the direction of your target. This allows you to combat multiple enemies at once—and even interrupt them mid-attack.