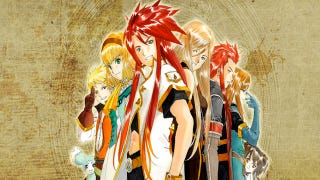 Once upon a time there was a role-playing game. It had cool graphics and a fast-paced battle system. It was filled with mysteries and plot twists. Things were good.
One day, the role-playing game started to feel kinda sluggish. Its characters weren't all that appealing. Its battles felt less like exciting, strategic brawls and more like endless, button-mashing snoozefests.
Then I got bored and turned it off. The end.
Well, that's not entirely fair. I did enjoy the ~10 hours I spent with Tales of the Abyss 3D, a Japanese role-playing game that Namco Bandai released a few weeks ago for the 3DS. I had a good time slashing up monsters and exploring the game's world, a lovely place packed with hulking steam-powered airships and sprawling desert villages. Though some of the terminology left me baffled—you try remembering the difference between "Fon," "Fonons," and "Fonstones"—I wanted to see what would happen next.
But then there was a point—I think it was this past Wednesday night—when I looked at the game and said to myself, "I don't want to play this anymore." I'm sure you've had that moment, that revelatory point when you look at a video game and wonder why you're still playing, wonder if you were ever really having fun or just wasting your time.
When you have a moment like that, you ask yourself a lot of questions. Stuff like: Why am I no longer interested in this game? It's good, isn't it? What's wrong with me? Am I a bad person? Do I hate video games? Are video games bad? Should I just become a food critic? I never get sick of food, do I? Are JRPGs dead?
But no. All I have to do is think back to The Legend of Heroes: Trails in the Sky, a PSP game that publisher XSEED released last year and the last JRPG I really loved. I couldn't put it down. I was hooked the second I met the main character, a peppy girl named Estelle with a witty sense of humor and some meaningful, real flaws that made her feel like an actual human being. I wanted to follow her adventures through to the bitter end. Because I cared about her.
We're interested in characters, in stories, in adventures. In people's journeys, people's triumphs, people's hardships. In people.
And, really, when we play a role-playing game, we're usually not fascinated by rule-sets or mechanics or any of those other jargony things that developers love to talk about. We're interested in characters, in stories, in adventures. In people's journeys, people's triumphs, people's hardships. In people.
Of course, it takes a lot of work to make a game's zeroes and ones actually seem like people. As any writer will tell you, convincing an audience to care about fictional characters might be one of the most difficult part of storytelling. But in a world where there are way too many good games and not enough time to play them all, why should we waste our time on RPGs that can't get it right?
The main character in Tales of the Abyss is a boy named Luke who lives in a gigantic mansion. His uncle, the king, and his father, the duke, have not let him leave this mansion for quite a few years, which might be why he acts like such an annoying brat all the time. He's whiny, spoiled, and very grating. It got on my nerves.
Luke learns to grow out of that immaturity over the course of his adventure, but that takes quite some time. Time that I just didn't care enough to invest.
So how does a writer make an audience care? The best storytellers have tons of tricks up their sleeve. For example, we tend to connect to characters who are really, really good at what they do. We'll fall in love with even the most despicable assassin if he's really good at his job. Clever lines help. Flaws, too. Not the type of flaws that make you say "goddamn, you are annoying"—the type of flaws that make you say "oh wow, I know how that feels." Hubris. Ambition. Anger. Jealousy. You know, all that good stuff.
Sure, Tales of the Abyss 3D is a solid, competent game, but who has time for solid, competent games? I only want to play the ones I care about.
This Week in JRPG News
* Square Enix's Bravely Default: Flying Fairy is looking pretty damn awesome. Andriasang has a bunch of screens for the oddly named title, which will be released for 3DS this year in Japan. It almost looks like a sequel to Final Fantasy: The 4 Heroes of Light.