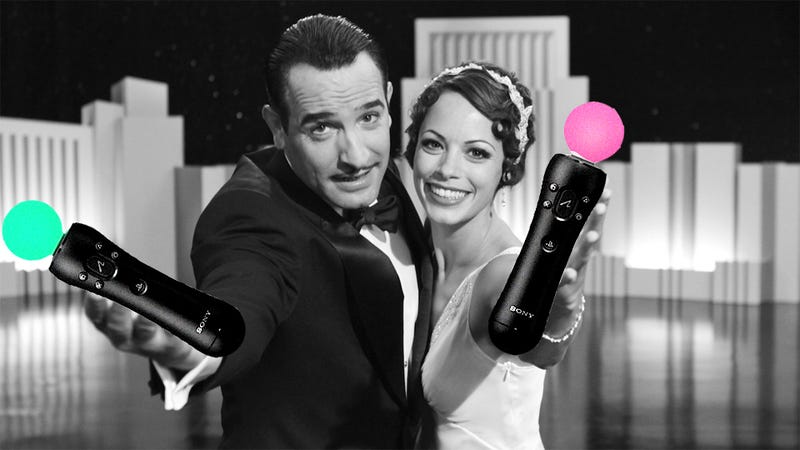 Last night at the Academy Awards, a silent film won best picture. Michel Hazanavicius's The Artist, a movie about silent film star George Valentin, is itself a classic silent film—for the most part, it has no sound effects or dialogue, just music and on-screen action.
Several new video games like the Move-enabled competitive game Johann Sebastian Joust and the audio-only shooter Swamp have eschewed graphics entirely. As The Artist reminded us, a film does not need spoken dialogue to qualify as a film. These new games raise a similar question: Despite the "video" in the moniker, do video games really need graphics?
Today at Kill Screen, Jason Johnson took a look at the all-audio video game Swamp. Swamp is an online co-op shooter designed to be playable by blind people—Johnson describes it as "Left 4 Dead for the blind."
Johnson looks back at a number of audio-only games, including AudioQuake, a Quake mod designed to be playable by the blind.
Audio games have largely gone unnoticed by the gaming public, nestled away in small pockets of the internet-overlooked by not only by the sighted, but also by their intended audience. People don't tend to talk about things that can't be seen. The earliest written languages were cave paintings and pictographs-visual representations of feet and vaginas and buffalos that eventually were stylized into cuneiform. Even music reviews tend to focus on the visual. They are littered with metaphors, musicians' personal histories, and cultural references. Simply put: If it's out of sight, it's out of mind.
Last month, Kotaku ran a story about Rock Vibe, an experimental music game in the mode of Rock Band that was designed to be playable by sighted and non-sighted gamers alike. UC Santa Cruz MFA Rupinder Dhillon made it her goal to design a music game that could be played by everyone, and the game exceeded its Kickstarter goal of $15,000.