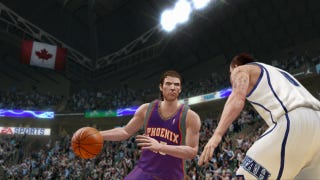 At the time I asked about its readiness, EA Sports' next NBA game didn't even have a name. Peter Moore, then the label's boss, avoided my question and told me was doing so.
"It's in the shape you would expect it to be for a title that's a year and four months away," Moore said at E3 last June. "There's a non-answer for you!"
Today, we found out that EA Sports is ready to launch another NBA simulation and, wisely, it's going back to the NBA Live brand it built over 17 years, which bloomed on the previous console generation, wilted on the current one, and was jettisoned in a disastrous rebranding and makeover two years ago. NBA Elite 11 quite notoriously, was the first licensed sports title to fail to launch in more than 14 years, owing to a demo that in its best moments, showed off bland gameplay and in its worst, was mocked in million-view videos on YouTube.