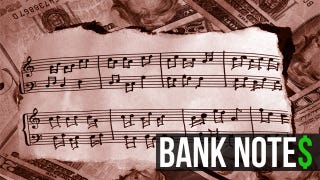 You may have heard that it's tough to make a living as a musician. You heard right! It's a tough world out there, and very few people get paid a good living to make music. But while it may seem daunting from the outside, there is actually a greater demand for music than ever—there is more media created each day than ever, and most of it needs music. TV shows, movies, commercials, websites, podcasts, web series, promotional materials, and, of course, video games.

Writing and orchestrating music for games has evolved and branched into an accessible, entirely viable way for today's composers to make a living with music. Big-budget AAA games have co-opted the studio orchestras and recording spaces of Hollywood films, and smaller indie games provide independent composers a means with which to broadcast their music to a massive and enthusiastic audience. Any way you slice it, video games are the newest, broadest, and most exciting way to make a living writing music today.
"I tried to do music for films for seven years," composer Danny Baranowsky told me. "I did around twenty projects. And over seven years of indie film music I've made probably $2,000. Total. I'm not saying you can't do it. But I did not find a way to do it."
Danny Baranowsky | Photo by Jeriaska
Baranowsky put aside film scoring to move into the world of video games, and today he's a well-known name in the world of video game music—his soundtracks for Super Meat Boy and The Binding of Isaac, as well as his work on several successful iOS games, have earned him critical accolades and financial success. He's a regular speaker at conventions like Minecon, PAX and the Music and Gaming Festival (MAGfest), and he's providing music for Minecraft creator Marcus "Notch" Persson's next game. In other words, Danny Baranowsky is making it happen.
"I was glad when I finally got my break in games," he told me. "I was so sick of feeling like I was spinning my wheels. I was getting better, I was improving, but the idea of making a living at it was something that I couldn't get any traction in at all."
Baranowsky laughingly told me that the first game he got paid for was a puzzle game for the Nokia Sidekick, which he actually had to do in MIDI. He did another game for the same company, this time for the iPhone, composing five minutes of original music for, as he recalls it, $70 a minute (this is very, very low for a composer). The game was never released.
"I'm not saying you can't do it. But I did not find a way to do it."
Soon after that, Baranowsky provided the music for Adam Atomic's iPhone games Canabalt and Gravity Hook, both of which were App store hits. His subsequent work on Team Meat's Xbox Live Arcade hit Super Meat Boy locked him in as a composer to watch, and finally started putting some real money in his pocket.
That's in large party because Baranowsky owns the rights to the music from the game, which he sells through his Bandcamp page. Baranowsky told me that independent music sales have accounted for about double what was paid for working on the game.
In fact, had the soundtrack been bundled through Steam as it was with The Binding of Isaac, he would have made much, much more. " Isaac was a fairly successful game, but I made ten times as much money on the Steam bundle option as I did on Bandcamp. It just goes to show that although Steam isn't where you would go to get music, the reach of Steam is… it's fucking amazing."
In other words, Baranowsky made ten times more money selling music through an online video game store than he did through online musical outlets. Many artists think of making a living by selling tunes through iTunes or Bandcamp or CD Baby, but the idea of tying original music to a platform like Steam is smart, focused, and at least in the case of The Binding of Isaac, really works. (Surely it helps that the Isaac soundtrack is very, very good.) Other artists have found similar success by doing work for indie games—both Bastion's Darren Korb and Sword & Sworcery's Jim Guthrie are songwriters whose work has received huge amounts of new attention thanks to their involvement with successful video games.