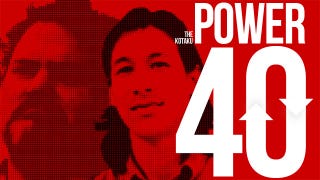 In January, we debuted the Kotaku Power 40, our admittedly impossible-to-perfect list of the most powerful people involved in video games. We aim to assess these people's current level of influence on... what we play, how we play, how we get our games and/or what we think of games.
Today, we present our first revision to the list, which you can find by scanning down the right hand column of Kotaku.com/Power 40.
You'll see some movement. You'll also see two new faces: Tim Schafer and Perry Chen. The esteemed game developer Schafer makes the list mainly for breaking Kickstarter records and perhaps re-writing the rules of funding video game development. Chen, CEO of Kickstarter makes the list for much the same reason.