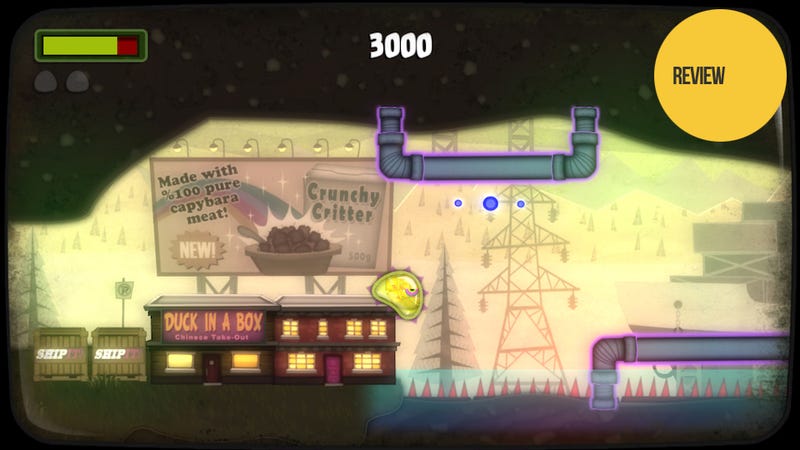 I still remember when I saw The Blob. Not the original film, the 1988 remake. I was probably around ten years old, and we were having a Christmas party. The big kids had gone off into a separate room to watch horror movies. I came in right as what I call "The Yo-Yo Scene" was happening—a guy looks up, and fastened to the ceiling is The Blob itself, with a half-melted dude hanging out of it. It was the most horrifying, nightmare-inducing thing I'd ever seen. I would never think of blobs the same way again.
Until Mutant Blobs Attack, that is. The new downloadable game for the PS Vita is so delightful, funny, and smart that it's made me forget all about the ghastly pink flesh-eater from my childhood.
The full name of Mutant Blobs Attack is actually Tales from Space: Mutant Blobs Attack! but I'm going to go ahead and call it Mutant Blobs Attack and hope you'll forgive me. The reason for the extended name is that the game is actually second in a series from Drinkbox Studios, the first being the PSN downloadable Tales from Space: About a Blob.
WHY: Mutant Blobs Attack is a creative, funny, and welcomely challenging puzzle game with an impressive supply of smart ideas.
---
Mutant Blobs Attack!
Developer: Drinkbox Studios
Platforms: PlayStation Vita
Released: February 22 (U.S. and Europe)
Type of game: Humorous 2D side-scrolling puzzle/platformer based around physics puzzles and starring a grumpy mutant blob.
What I played: Played through seven of the eight worlds, replayed several levels multiple times to try to get all of the collectibles.

My Two Favorite Things
Blowing through six smart puzzles in about three minutes' time.
Realizing I was laughing after each death, rather than feeling frustrated.
My Two Least-Favorite Things
The music can start to grate after a while.
A few sections, notably the first motion-controlled rolling bit, can feel cheap.
Made-to-Order Back-of-Box Quotes
"Like Katamari and Rampage had a baby."
-Kirk Hamilton, Kotaku.com
"A concise but compelling case for the Vita as a distinctive gaming platform. No seriously!"
-Kirk Hamilton, Kotaku.com
"It made me weirdly hungry."
-Kirk Hamilton, Kotaku.com
Mutant Blobs Attack is a side-scrolling puzzle/platformer that relies heavily on physics puzzles and tightly-packed level design. You play as a green, cyclopean blob that has escaped from a lab and wants to go… home? Out for dinner? It's not entirely clear.
Basically, you spend the game on a classic monster-movie rampage, and in order to rampage properly, you'll need to eat and eat and eat. The more objects you eat, the bigger you get; sometimes the levels will have "corks" blocking your way which you can only pass once you've hit a certain growth threshold. Eat enough stuff—some combination of food, trash, junk, and sometimes people—and you'll get big enough to proceed.
The whole story is played for laughs. It features a winning, paper-cutout animation style and groovy, 1950's sci-fi go-go music. The story has no text and only a few very short cutscenes, but it still manages to spin an entertaining yarn. That's because the environments are smartly designed to tell you where you are and why—you begin on a college campus before making your way through a town and onto a rocket into space, then to the moon, then back to earth. There's a nice sense of progression to the backdrops, and the story feels like just enough to let you understand what's going on but not so much that it's ever distracting.
Mutant Blobs Attack is not an easy game. In fact, it can be a right slap in the face at times. It's never face-crushingly, Vita-throwingly hard (mostly due to forgiving checkpoints), but it has a bracing, cold difficulty that feels like a welcome kick after the coddling of so many similar games. The first level was a piece of cake—I ate some junk, I pulled a cork, I flowed through some drains… and then on the second level, I was faced with instakill moving lasers. Woah! Things only get more difficult from there. But while I've died a whole lot, I've never felt punished for dying, and I've figured out most of the puzzles in a few tries.
The Blob has a limited but highly versatile move-set: It can jump, dive-bomb, perform wall-jumps, and use magnetism to pull or push him self away from certain metal surfaces. In some select sections, it can also fly, with the shoulder buttons used to fire up a sort of afterburner. Wonderfully, these moves are used very creatively by the designers, and you'll have to push The Blob to its limits to solve some of the trickier puzzles.
While the art-style may occasionally call to mind the Metroidvainian Insanely Twisted Shadow Planet, the puzzles in Mutant Blobs Attack are actually much craftier. Rather than require you to learn how to use an ever-growing, complicated set of tools, the game's puzzles are entirely designed around creative use of those few, established abilities. One minute, you'll be using magnetic push to flip yourself through a series of spiked walls, the next you'll be dive-bombing down ahead of a laser so that you can take a corner fast enough to get out of the way.