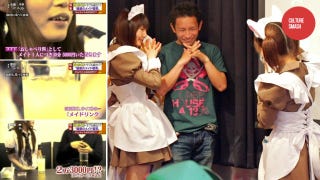 In Japanese geek meccas like Tokyo's Akihabara and Osaka's Nipponbashi, otaku (nerds) flock to maid cafes. The establishments are staffed with young women, eager to talk, serve rice omelets, and play paper-rock-scissors with customers.

For a price. And depending on the maid cafe, a hefty one.
Maid cafes started taking off in Japan between 2003 and 2004. They took the place of diner chain Anna Miller's, a proto-maid cafe of sorts. Maid cafes are a space where otaku can unwind and relax as well as talk to girls (here, maids) and play silly, innocuous games with them. Maid cafes are unabashed in their geekery, and the maids that staff them are expected to be well versed in video games, anime, and manga—the lingua franca of nerdom.