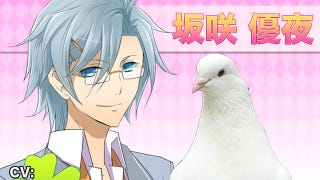 Hatoful Boyfriend puts the player in the shoes of a reasonably well-adjusted high-school sophomore girl. She attends class, studies hard, participates in extra-curricular activities, and works part-time in a café during the summer.
She just happens to be the only girl, and only human, at St. Pigeonation's, the country's premier school for birds. Literal birds, the feathered, beaked, using-statues-for-toilets kind.
I am not making this up.