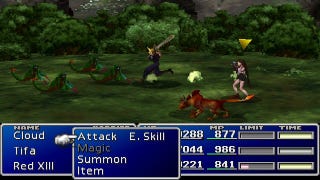 There's a little Lego figure standing next to my computer screen. It's a miniature depiction of Darth Maul, from Star Wars: The Phantom Menace, and he's holding a double-sided lightsaber.
Sometimes, when I'm trying to think, I'll take that lightsaber and snap it in and out of Darth Maul's outstretched little Lego hand. Everything about that snapping motion — the tactile click, the slight recoil, the instant stability — is uniquely comforting.
Kind of like a turn-based role-playing game.
A lot of people don't like turn-based RPGs. They don't like selecting options from a drop-down menu or watching characters stand around as enemies attack them. I get that. I've criticized it, too.
But there's also a certain comfort in turn-based combat, something you can only get from games like the Dragon Quest series and the many titles it has influenced. A certain snapping motion. A certain rhythm. As Kotaku's own Kirk Hamilton wrote last year: "Any great video game has a groove to it, a kinesthetic dance of feedback and response that can easily be thought of as a kind of music."