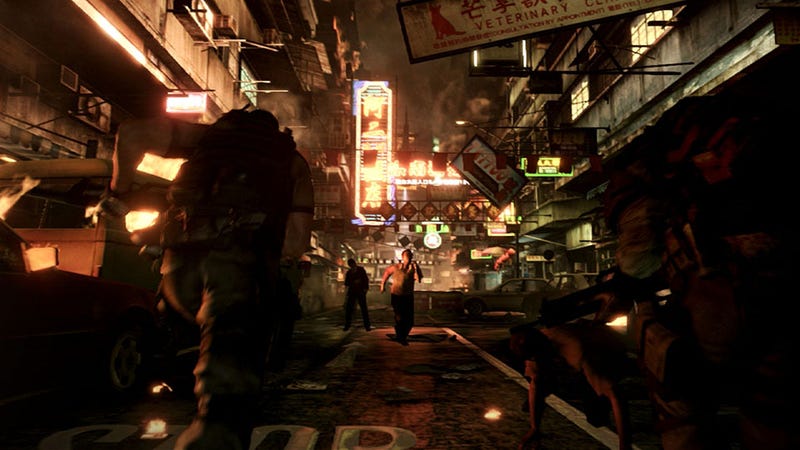 In a recent interview with Weekly Famitsu, Resident Evil 6 executive producer Hiroyuki Kobayashi, director Eiichirou Sasaki, and producer Yoshiaki Hirabayashi had quite a few interesting things to say about the upcoming title.

For the overall concept of the game, the creators expressed a greater emphasis on horror than with previous games in the series. "One of the appealing aspects of the Resident Evil series is the feeling of dread; where you know something bad is waiting ahead, but you still need to go anyways. But there's much more to fear than just dread. We want to show the player that there are more facets to fear than they first thought of." said Eiichirou. In earlier games, most of fear factor came from jump scares and atmospheric anticipation, but the creators have hinted that they have explored other areas with which to scare the players.
Another new element is the introduction of China as a new battleground. Unlike with the previous locations of Spain and Africa where the stages were mostly undeveloped areas, the city of Lanshiang is a fully developed cityscape ravaged by the zombie apocalypse. The creators actually went to China to look at and experience the cities in order to recreate a more authentic Chinese city experience. "Langshiang is an imaginary city, but we wanted the atmosphere to feel as real as possible. We traveled to China to get a feel for the cities there. We learned a lot by actually going." said Eiichirou. Added Yoshiaki, "The reality is completely different when you're creating from sampled materials and when you're creating from memories and actual experiences. We want people to really feel like they're there among the neon signs and crowded chaotic streets."