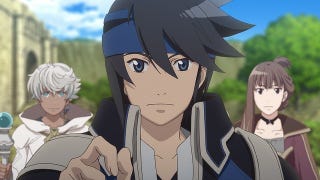 The PlayStation Vita has been out for two months in Japan. So how is a PSP game topping the charts?
Andriasang reports that Konami's Genso Suikoden Tsumugareshi Hyakunen no Toki, released last week for the Vita's predecessor, was the number one game sold in Japan between February 6 and February 12, at 61,784 copies. The latest Suikoden beat out popular next-gen games like Gravity Daze (43,462 copies) and Super Mario 3D Land (19,673 copies) to earn its sales crown.
Suikoden is no Final Fantasy, but it is a popular RPG. Early fan buzz suggests that it's a good one, too.
Question is, will we ever see it? Previous Suikoden games have all made it to North America, but the PlayStation Portable is on its last legs. Sony will release the PlayStation Vita here in the States next week, rendering the old handheld all but obsolete.
On the other hand, the PlayStation Vita will sell PSP titles digitally on the PlayStation Network. It's not out of the question that publisher Konami could release the new Suikoden game as a download-only experience. If the company doesn't have to worry about recouping costs for shipping and printing, releasing the game would not be as big of a gamble.