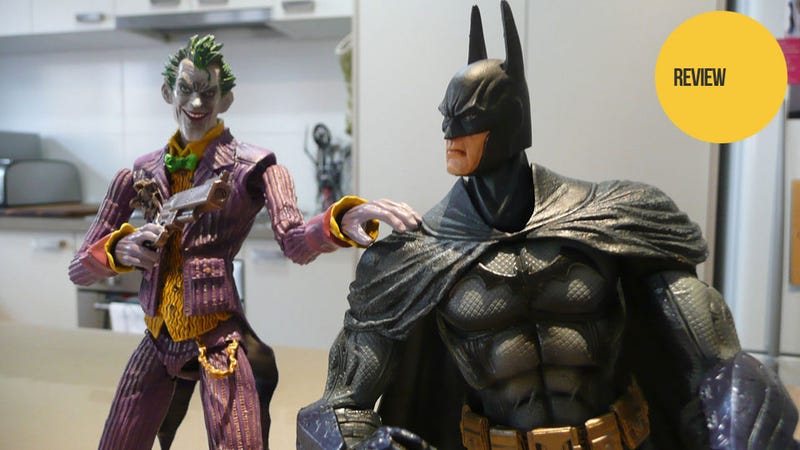 There were normal action figures based on Batman: Arkham Asylum. They came out a while ago, and they were fine. These premium figures, though, are brand new.
So we're taking a look at them. And by taking a look, I mean I'm going to sit in my kitchen and play with them.
If you're wondeing why there are Arkham Asylum figures coming in 2012, it's actually pretty common for toy licenses to be way behind the release of a video game. There are Mass Effect 2 figures coming out this year, for example, even though that game came out in 2010. Sometimes there are licensing issues, other times a publisher simply doesn't know if there'll be demand for a toy until the game is already out, so the process has to start later.
All of which explains why Square Enix's premium Play Art line is only now putting these Batman pieces on the market. And why I'm about to review the two figures, one of Batman, the other of The Joker.
WHAT YOU GET IN THE BOX
Batman: 2x spare hands, 1x Batarang, 1x Grappling Gun, 1x alternate cape section
Joker: 2x spare hands, 1x gun, 1x set Joker Teeth
WHAT I LIKED
Stylin'. Play Arts figures aren't to everyone's tastes with their extreme stylistic touches, but they're definitely to mine. And while the last ones we looked at - for Street Fighter - sometimes felt a little off, this pair match the looming, exaggerated visual style of the game perfectly. Especially The Joker, whose suit design and texture is awesome.