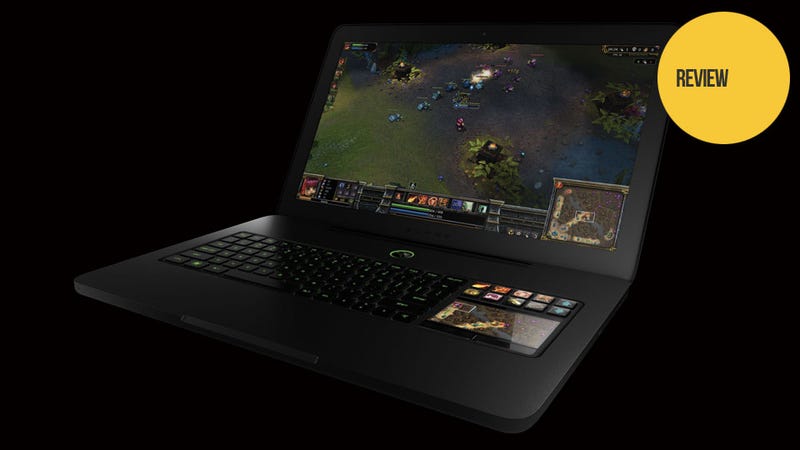 When I see the term 'gaming laptop', the first word that comes to mind is 'performance'. And when I hear of a gaming laptop with a price tag of nearly $2,800, I imagine a system that can readily outperform any less expensive machine.

That's just the way I've traditionally evaluated a gaming system — I am paying for performance. Judging by the initial reaction to Razer's modestly-spec'ed Blade laptop, I'm not alone. While many members of the PC gaming crowd were intrigued by the Blade's unique design, more still pointed and laughed, wondering why anyone would spend so much money when a similarly-powered system could be had for half the price.
It's a valid question with a simple answer: Razer isn't selling power.
Ah. Then what the hell are we spending $2,800 on?
I have to admit I was among the Blade naysayers even as I unpacked the review system. After the initially-promised pre-Christmas launch came and went, I wasn't even sure the system would make it out the door. And once it made it from Razer's door to mine, I was willing to believe, despite the tech specs staring me in the face, that this ultra-expensive system was an under-performing waste of cash that could barely run Star Wars: The Old Republic.
The Razer Blade
Price: US$2799.99
Product Specifications:
• 2.8GHz Intel Core i7 2640M Processor
• 8GB 1333MHz DDR3 Memory
• 17.3" LED Backlit Display (1920x1080)
• NVIDIA GeForce® GT 555M with NVIDIA Optimus Technology
• 2GB Dedicated GDDR5 Video Memory
• Built-in HD Webcam
• Integrated 60Wh Battery
• 250GB SSD
• Wireless Network 802.11 b/g/n Compatible
• Battery: 6 hours idle, 2 1/2 if playing "hardcore" game.
• 16.81" (Width) x 10.9" (Depth) x 0.88" (Height); 6.97lbs (Weight)
A call from a Razer representative set my system settings straight, and since then I've been enjoying modestly impressive performance. It wasn't on the same level as the Origin EON17-S I reviewed last year, but then Origin is a company that is selling performance. Besides, the $3,000 Origin costs more.