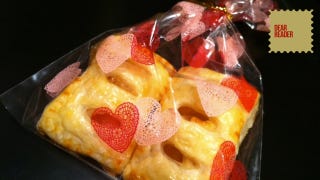 Instead, I got apple pie. Mrs. Bashcraft, my wife, made apple pie for the kids and me. This is it!
Actually, this isn't mine. While the kids got their apple pie in nice little bags, I got mine in a Ziploc bag. Apparently, we are out of nice little bags, but have tons of Ziploc bags.
(Mental note: get more nice little bags.)
Shame I didn't get any itachoco or virtual chocolate from the Love Plus girls. Oh well!