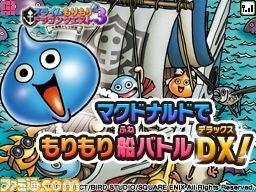 For a limited time, McDonalds in Japan will be distributing free game content for customers with Nintendo 3DS handhelds. The DLC will be exclusive to the 3DS game
Slime Mori Mori Dragon Quest 3
but they will also be distributing a free original game,
McDonald's Slime Ship Battle DX
.
There will be 4 exclusive downloadable items for the Slime Mori Mori Dragon Quest 3, and each will be distributed separately through the duration of 4 weeks. You must download them all for the complete set.
As for McDonald's original Slime Ship Battle DX, the only requirement is that the customer has a DS. Clearing the mini-game will reward the player with a 1-day reusable coupon for drinks and burgers.
More photos in the link below.