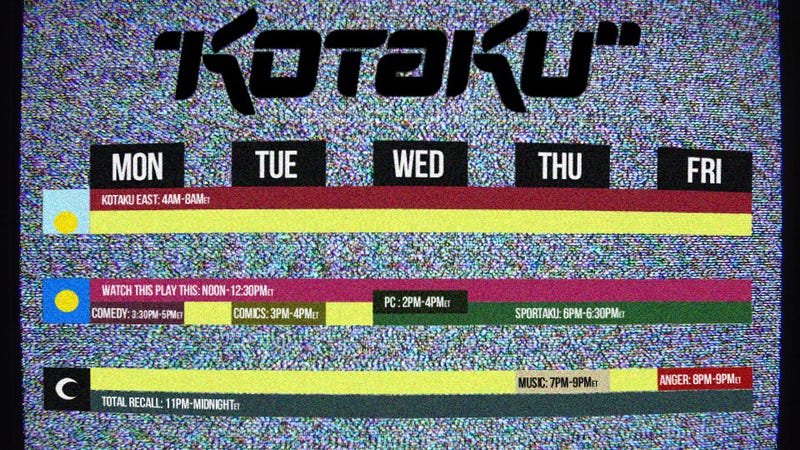 Starting on the evening of February 12, Kotaku will begin to offer scheduled programming.
Your listings are above.
What does this mean?
We're changing. Not completely, of course. We are still a website. We are still one built on a love for video games and a passion for both reporting and writing about them.
(You probably shouldn't call us a blog, though, because that term lost meaning ages ago.)
We'll still be right here at Kotaku.com, updating you with news and opinion (mostly) about video games at least every 30 minutes, but usually faster than that. In other words, a lot isn't changing at all.
What will change is that, at certain hours of the day, Kotaku will transform. On Wednesdays at 2PM Eastern, for example, one of our most passionate computer gamers on the team, Mike Fahey, will take over and write and curate two hours of PC gaming-centric coverage. On Thursday nights, Kirk Hamilton, arguably the best writer about video game music around, will turn Kotaku into a site all about, well, games and music. The site will look different when any of these programming blocks are in effect.
At 6pm ET, Wednesday through Friday, our sports-reporting ace Owen Good will start providing a blast of sports gaming news. Evan Narcisse, who can write about comics with the best of them, will run coverage of comic books for an hour each Tuesday.
On Mondays, we'll give you stuff to laugh about.
On Fridays, we'll get you angry.
Every day at noon eastern, we'll share cool stuff to watch and show you cool new games to download or load in browsers (think of this chunk, which we're calling "Watch This, Play This" as our way to help you goof off at work or school).
Luke Plunkett and Kirk Hamilton will dedicate Kotaku's final hour of each weekday to old games. And Brian Ashcraft will oversee a wonderful expansion of our coverage from Japan, China and Korea with the new, early-morning four-hour block of Kotaku East—with new members of our expanding team writing about and showing you glimpses of video games and culture from four major Asian cities.