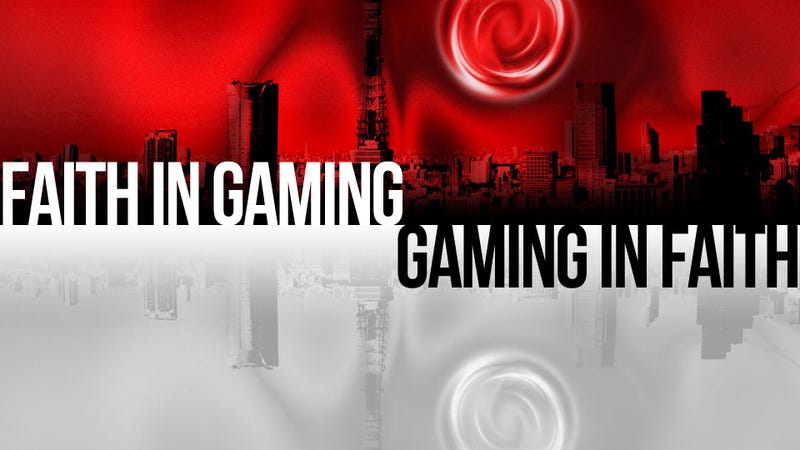 The things that make us reconsider who we are and what we believe in are often bizarre, random, coincidental; sometimes completely unremarkable save for the sudden realization that concusses you. Lately, things I've been reading and playing have coalesced into a divine cognizance for me. I've been reconsidering my faith.
[jump]
First, some context. My family may have not had an education past elementary school, or had something to eat every day while growing up, but they've always, always had religion. My father is a pastor, following in the footsteps of my grandpa, who gives service in a church that he built with his own hands. My grandma instilled the fear of an all-seeing lord upon my aunts and uncles through castigation - atonement for missteps was paid through the reading of bible passages while kneeling, or 'creative' punishments based on bible stories, if not flagellation itself. It was that same grandma who, infuriated with a city girl who didn't know what to do with herself without TV and video games in rural El Salvador, made me read the entirety of the bible when I was 10.
"Love dares the self to leave itself behind, to enter into poverty."
I don't remember all of what I read, but I recall the sense of disquietude, the sense of discomfort very well. I knew, even then, that people like those in my family desperately needed something to believe in—religious belief seems to be endemic to poor, downtrodden communities like those in El Triunfo, El Salvador—but it was beyond me why they would elect to believe in something like this. A vengeful, jealous god who doled out punishments like hissy fits was the entity who oversaw mankind? Religion was supposed to be guiding principles under which to live life, to be a better human being, but there was an underlying ugliness that the bible revealed to me that was difficult to reconcile with the morals it was supposed to promote.
"Grandma, if God asked you to kill me to prove your love for him, like with Isaac and Abraham, would you do it?"
"In a heartbeat"
"Really?"
She stares at me.
"But why would I need to die to prove your love? Why does God DO things like that, ask such awful things of the people in the bible? Why do so many terrible things happen to people? Why?"
Silence.
Eleven years later, I can't quite describe the anxiety I feel when watching the intro of The Binding of Isaac.
My mother was always the wild child of the family. She was, for instance, the first in an entire village who dared to leave El Salvador for the land of the free. Before that, though, she ran away from home as a teen to work in the capital - meaning she didn't quite undergo the full extent of religious indoctrination in my family. My mother is still religious, she's just very 'fluid' about what she practices. A sampling of the hodgepodge she operates under: she believes in a Christian god, but she also gives special prayers to an entity called Death, and she gives offerings to a little statue of Buddha. This cacophony of religious entities and beliefs muddled together coupled with my traumatic experience with the bible meant that growing up I didn't see myself as a person of faith.
Right now that's changing. It all started with Decreation, a collection of writings by Anne Carson, a Canadian poet and essayist, about coming undone. The book is headlined by different three women—Sappho, an ancient Greek poet, Marguerite Porete, a French mystic, and Simone Weil, a French philosopher—who want to love God as fully as they can. So fully, so completely, that these women seek erasure—they see their existence as a hindrance. Religion, to them, is a method of de-centering oneself, a way of purifying and clearing the self such that only God and love itself can exist.
"She did not want to be a woman. She wanted to disappear."
I became obsessed with what, exactly, drew people to religion, what it took to create a captivating pull, or an interesting narrative that one might want to affiliate with.
These women are completely, completely insane, to be sure (though the erasure of the self brings to mind the idea of 'immersion' in games, and some even argue that immersion in gaming is death) , but there's something weirdly poetic to it, too. These women seek ecstasy. The word 'ecstasy' comes from 'ekstasis', which means 'standing outside oneself' and this is typically a condition prescribed by the Greeks to the crazy, the fervent, the brilliant, to lovers. Doesn't the idea of 'Decreation' sound a bit romantic, when put that way? The clincher, the moment in which I knew that Anne Carson had seduced me with her dubious ideas, was the following quote.
"Love dares the self to leave itself behind, to enter into poverty."
A week later, a realization washes over me: I wanted to feel beside myself, I wanted to be poor. I wanted to feel ecstasy. I wanted something beautiful, romantic. I wanted love. Most of all, I wanted to come to an understanding regarding faith, what draws people to it and where it fits in my life. So I picked up my DS and set out to finish Shin Megami Tensei: Devil Survivor.
The Megami Tensei games are practically drowning in religious overtones. Like Final Fantasy, there are common elements found in the entirety of the metaseries: mythology, demons, the obscure, morality, amongst other things. Devil Survivor in particular takes place in present-day Tokyo as it is being overrun by demons released by cultists. Humanity is given seven days to prove their worth and stop an 'ordeal' sent by God himself. The first time around, I stopped playing the game because I was frustrated with the fact that the 'good,' moral option seemed to mean aligning with the cultists, called Shomonkai, and 'becoming the messiah' for them.
It wasn't just that the cultists were insane and I felt uncomfortable becoming a pawn in their silly holy battle. While it's true that I found it ridiculous that the 'good' option meant helping the cultists get rid of a problem they caused in the first place, there was another source of uneasiness that was more tangible about it: they reminded me of the Aum Shinrikyo cult.
I first heard about the Aum through Underground, a book about the Tokyo gas attack written by Haruki Murakami, a Japanese writer. Though most famed for his fiction novels, like Hard-Boiled Wonderand and the End of the World and the more recent 1Q84, Murakami wrote a non-fiction book about the famous Japanese cult in an effort to better understand what happened in Japan on March 20th, 1995. You see, on that date a group of five people set out on the Tokyo subway system and released sarin, a deadly gas that attacks the nervous system and is considered by the UN as a weapon of mass destruction. The book reveals some electrifying truths about the Japanese psyche and society through interviews with victims, onlookers and even the Aum themselves.
Most Megami Tensei games include a religion, usually a cult. Devil Survivor felt different, somehow. We're in modern-day Japan, in a real city—Tokyo, actually. The people involved in both cults tend to be younger, often brilliant, elite young men from the top universities; both cults feel 'modern' in their approach to religion, too. This is true in two senses: first, given the Aum's development of advanced doomsday weapons. There are many conspiracy theories floating around regarding how 'futuristic' these weapons were. Some even blame the 1995 Kobe earthquake on the Aum thanks to a prophecy by Hideo Murai, the Aum lead scientist who was murdered by Yakuza shortly after public conjecture that the Earthquake may have been man-made. Later, FBI investigations revealed a strong Russian backing of the Aum, explaining some of the scary weaponry that the Aum possessed. Despite these conspiracy theories, the Aum are still considered one of the most technologically innovative terrorist groups in history. Beyond being modern in a technological sense, the Aum were modern in ideology, in conception. The entire creation of the cult was in response to the modern-day ills of Japanese society.
Games have long obsessed with the attribution of a metric to morality.
In particular, the argument Murakami makes is that the Aum cult is the response to a society that makes it difficult to create a personal narrative to situate oneself within the wider matrix of society, that the individual autonomy is repressed. This might sound farfetched, but what else can you conclude when you look at a Japanese adage like "The nail that sticks up gets hammered down"? Is this not the understanding you get when you finish reading Tim Roger's diatribe on Japan, too? More concretely, the Aum arose during the bubble economy of Japan, in which material wealth was heavily emphasized and, as a result, there was an overt feeling of spiritual emptiness, and a huge sense of loneliness. One might even say the social climate in Japan produced a sense of anomie - a detachment of the self from wider societal mores. Enter the Aum, who promised guidance to many young Japanese who were feeling lost and ostracized, by promised a virtuous existence. Initially, the teachings were a fusion of Christianity, Hinduism, Buddhism and Yoga. Somewhere down the line though, some of the Aum lost their way.