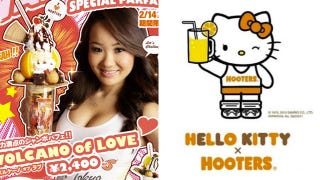 When you think "Hooters", you might think of orange hot pants, buffalo wings, or, if you are a Philadelphia Phillies fan, retired catcher Darren Daulton (who married a Hooters icon). The one thing you do not think of is Hello Kitty—until now.
The famous illustrated cat is doing a cross promotion with Hooters Japan. The first 1,000 customers who show up at the restaurant and order parfait get Hello Kitty Hooters pins.
Why stop at an infamous "massage wand" or a dentist office when there's Hooters?