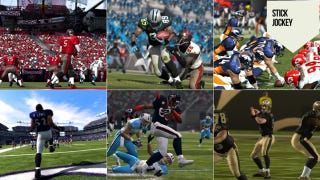 In past years I've used the Saturday before the Super Bowl to handicap the field for the next cover of Madden NFL. Since the last time I did that, EA Sports put the honors up to a fan-voted, 32-player tournament in 2011, and on Thursday announced it was doubling that field to 64 for 2012.
That makes the job of prognosticating the cover star of Madden NFL 13 a little more time consuming and complex, but I'm up to it. Given what I know of this game, the league, and EA Sports' relationships with the NFL's top performers, here are my picks for the entire field of 64 when it is announced on March 7.
Madden NFL is the progenitor of the modern video game cover, both as a career honor and a marketing concept. It is the 21st century's Wheaties box. No other video game gets a fan base to argue or even care this much who ends up on its packshot.
In making my predictions below, known existing relationships with EA Sports' marketing operations carried the most weight, especially if the player appeared in last year's cover contest playoff. No prior association to Madden likewise counted against a player, especially if he is a longtime veteran. So-called skill positions on offense (receiver, running back, quarterback) have an advantage over defensive positions.
No other video game gets a fan base to argue or even care this much who ends up on its packshot.
In short, a team's best, highest or mos decorated player —Eli Manning or Tom Brady, for example—may not be on this list. That's not its purpose. We're trying to guess who EA Sports has nominated, considering that if that person wins out, the two sides must be able to agree to some kind of contract terms.
This year's fan-voted contest will begin with a two-week "play-in" round matching players from the same team, to determine which one represents the franchise in the main draw. Once the play-in round is resolved, the entire bracket will be seeded.
As those matchups are unknown, I'm not prognosticating the entire tournament here, just who represents each team in the first and second rounds, and the winner's relative strength against the rest of the field.
AFC East
Buffalo Bills: Receiver Steve Johnson fell in the first round of last year's cover vote. Absent any compelling alternative, he should return. The best top-of-mind alternative is quarterback Ryan Fitzpatrick, whose Harvard bio would make for a nice twist in the tale of this tournament.
• Picks: Fitzpatrick beats Johnson. Or the other way around. Neither goes past the first round.
Miami Dolphins: As thoroughly average as this team is, it does have a few names worthy of mention: wide receiver Brandon Marshall, and Reggie Bush, who held the cover of NCAA Football 2007. Lineman Jake Long was Miami's representative in last year's contest.
• Picks:Long and Bush, with Long winning out and going nowhere after that.
New England Patriots: Should be an easy call here. Danny Woodhead represented the team last year, prized for his personal story of being cut in the Jets' pre-season camp. If not Woodhead, all-pro receiver Wes Welker, and Rob Gronkowski, at tight end, just burst on the scene, too. Don't overlook BenJarvus Green-Ellis
• Picks: Woodhead and Welker have lost their appeal outside of the Hub. Go with Ellis and Gronk. Either will be stopped by by anti-Patriot backlash in the second round.
New York Jets: Quarterback Mark Sanchez may present a mixed bag in terms of results but he's the quarterback in a major media market and has solid ties to EA Sports, in both last year's contest and this last minute promotional video signaling the end of the lockout. LaDanian Tomlinson will probably retire; Santonio Holmes is a malcontent. Plaxico Burress almost shot his leg off in a night club. I think Darrelle Revis and EA have a promotional relationship—he's at least received a custom PS3 that the label sends out to its celebrity ambassadors.
• Picks: Sanchez and Revis, in the closest teammate matchup of the bracket, with Revis emerging.