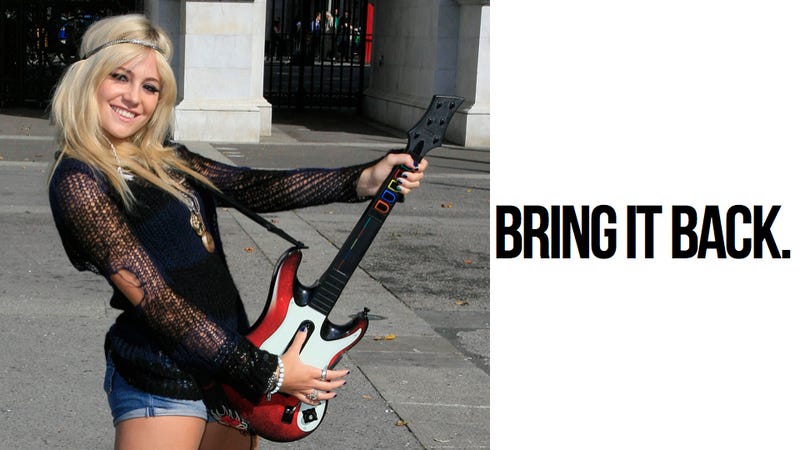 As both a game developer and a gamer, I am sad to see the guitar controller fading into obscurity.
Guitar controllers are a fun and unique interface to control games, but unfortunately, it seems as though their time may have passed. I reject that.
Rhythm games have been popular for many years, but Rock Band and Guitar Hero were able to create almost universal appeal. Do you know anyone who doesn't enjoy playing Rock Band? I don't. Even "non-gamers" gladly join in at parties. The main reason those games became so popular was the accessibility of the guitar controller. People could almost instantly pick it up and figure out how to play.
Plus, it's more fun to play a fake guitar than fiddling with a gamepad.
Most people at some point dream of being a rock star. Even if you never thought you could make it as a pro-rocker, can you honestly tell me that you've never played air guitar? Holding something resembling a guitar and rocking out is more fun that just pushing buttons. With the guitar controller, it's not just about the game input anymore. You can emulate the spectacle of being a rock star while playing. Even if you don't get the high score, you can impress your friends with your style.
(Gamer with lots of guitar controllers | via WorldofCrap.com)
Although many games these days seem like carbon copies of others, the field of game development is limitless. However, the type of experience developers can make is somewhat limited by input mechanism. It is great that there are many different input mechanisms available to game developers presently—multitouch screens, Kinect, Move, etc, but I am of the opinion that the more control schemes that are available, the better. Games are an experience, and the way you interface with them has a huge effect on the experience of the game. It would be possible to play Dance Dance Revolution with a gamepad or Steel Battalion with a keyboard and mouse, but it would not be the same experience and not nearly as enjoyable.
Despite the inherent coolness of the guitar controller, I believe its popularity waned because developers didn't offer new experiences for it. Even though there are a multitude of gameplay possibilities that could be guitar driven, most developers released software similar to what was out there. Many of the games were outstanding and innovative in a number of ways, but the core mechanics were the same, and many gamers (myself included) felt franchise fatigue.
I will concede that what you can do with a guitar controller is limited compared to the general purpose gamepad, but if games are designed around the strengths of the controller, there are plenty of new experiences that can be offered. I work at 24 Caret Games, and we are close to releasing Retro/Grade, a reverse spaceship shooter that is playable with a guitar controller. The premise is that time is flowing backwards, and you have to pilot your space ship through a maze of enemy projectiles and unfire your own lasers.