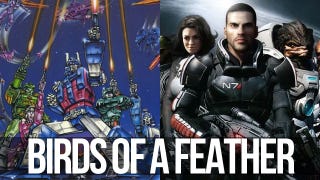 Not the toys. And not the Michael Bay horror films. I mean the 1986 animated feature.
At the time, Transformers: The Movie was notable for two things. One was the fact it killed everybody, traumatising an entire generation of young, impressionable movie-goers. The second, and more lasting, was the movie's casting.
It was a mess. A glorious, haphazard mess. There were teen heartthrobs, oscar-winning actors, sci-fi staples, comedians, TV veterans, voice-over people, the works. Yet somehow the "throw as many random names as we can afford" approach actually worked, and better still, it made the flick memorable. Example? I once won a pub trivia night by successfully answering the question "What was Orson Welles' last ever movie".
With Mass Effect 3's cast assembled earlier today, it struck us how much BioWare's series had begun to take after Transformers' batshit crazy approach. That with each game came an increase in the size of not just the cast itself, but how bonkers it was.