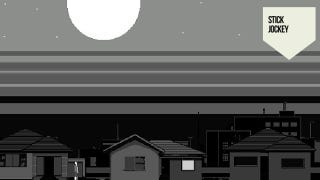 Considering the source, it's an unlikely statement. When Oregon was marching to a No. 1 ranking and a berth in the national championship game in 2010, Richard Hofmeier was running an art gallery in Eugene's funky Whiteaker neighborhood. Where nearly every video game treats all-star status and on-field glory as the player's birthright, Hofmeier built a game to put you in the shoes of a guy selling hot dogs, far away from any stadium lights.
And yet, "I'm obsessed with sports games," says the Seattle-based games designer and artist. "I want to make sports games, actually."
It might take someone fascinated by sports video games to build something so antithetical to their experience, as Hofmeier, 28, has done with Cart Life, an independent game that released in May 2011 and has captured considerable critical attention of late, much of it coming from Europe. It's not a sports video game, by any stretch. It's a "retail simulation," a cheerfully ironic label that disguises both the drudgery of working-class life, and a dispassionate game where success is hard to recognize, if it even comes.
In "Cart Life," you inhabit the character of someone who is not destitute but would likely be considered working poor, marginally secure at best. The game takes place over the span of a week. The characters serve coffee, sell bagels, run a newsstand. There is a lot of drudgery deliberately included in the game—from folding newspapers, to traveling to your work site, to smoking a cigarette. In one, you're a divorced woman living on her sister's couch, facing a custody hearing at the end of the week. In another, you're a widower living in a motel off the meager payout from your wife's life insurance, trying to pay the next week's rent. There are two other scenarios.
None of these careers open, or close, like the Frank Merriwell tales you build in the career modes of NCAA Football's Road to Glory or MLB The Show's Road to the Show. As Hofmeier developed Cart Life, he says he thought back to his own adolescence, when he also played sports in high school. Even if he didn't succeed conspicuously at them then, his artistic talent elicited similar praise from well-meaning family and friends who believed it would make him as rich and famous as any athlete. The outcomes became analogous in his mind.
What Hofmeier has done with Cart Life isn't the kind of challenge posed by unlicensed all-comers like Backbreaker, nor is it the kind of niche-sport insurgency represented by NLL Lacrosse. That's not to say Hofmeier doesn't challenge the status quo of sports video games design, particularly in what is seen in their individual career modes, a feature that became ascendant in this console generation.