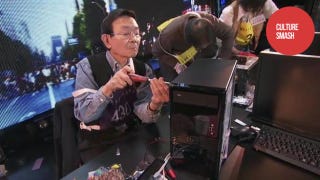 Kaoru Yosano looks like your typical politician—navy blue suit, glasses, and a Showa Era hairdo. Kaoru Yosano is anything but typical. He is a PC-building, nerd-hero.
At Nicofarre, the teched out nightclub for Japanese video service Nico Nico Douga, Kaoru Yosano participated in the "Kaoru Yosano Triathlon" in which the well-known politician underwent five events against Nico Nico users.
Did the Yosano emerge victorious against the Nico Nico nerds?
The Kaoru Yosano Triathlon, streamed live on Nico Nico Douga, consisted of individual constests that included photography, the game Go, card games, a Kaoru Yosano quiz, and a build-your-own-PC event. In the above photo, the 73-year-old Yosano is facing off in the computer construction showdown. That's not exactly three events, but I'll let it slide.