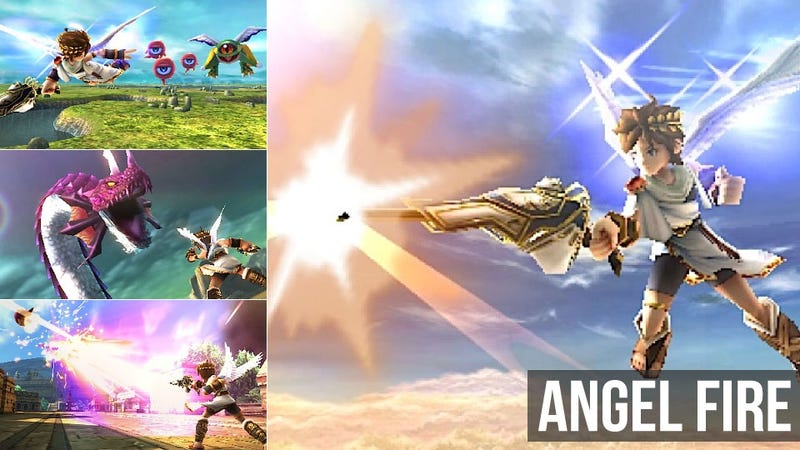 When Nintendo announced Kid Icarus: Uprising at last year's E3, I remember the enthusiastic response from the crowd. "Hooray!" they said. "A new Kid Icarus game!"
And yet when we paused to think about it... "Hooray? A new Kid Icarus game?"
That initial enthusiasm was actually a little puzzling. It was nice to see Nintendo pull out a non-Zelda or Mario franchise, but there has really only been one proper Kid Icarus game (two if you count the Game Boy release), so it's a tad surprising that people would feel such excitement about the announcement of another one. Furthermore, the Kid Icarus game Nintendo showed was more of a 3rd-person shoot-em-up than the original, which was a side-scrolling action game. Perhaps Nintendo was simply grabbing a familiar name in hopes of generating excitement for a wholly unrelated game?
After spending several hours working through five missions from the single-player campaign, I can report that although it demonstrates an ongoing fondness for its side-scrolling NES predecessor, Kid Icarus: Uprising is almost entirely unlike the original Kid Icarus. That's fine by me. This game is a colorful mess, bubbling over with joyful energy and frequently spinning itself into a kaleidoscopic tizzy. It's also fun.
Though it appears at first glance to be a God of War-style third-person adventure game, at its core Kid Icarus: Uprising is a fast-paced 3D shoot-em-up. This is due to the control scheme, which, like the DS' Metroid Prime Hunters, involves moving with the 3DS' circle-stick while aiming using the stylus and firing with the left shoulder-button. Whether on the ground or in the air, enemies come fast and hard and from all directions, and most of the game revolves around frantically moving the reticle around the screen in an effort to clear every threat while simultaneously dodging incoming fire with the circle-stick.
Weapons come in one of eight shapes and sizes—blades, bows, cannons, arms, claws, palm weapons, ranged orbitars, and staves. You choose a weapon at the start of each level, and each one has both a ranged and melee attack—the game automatically chooses which type you'll do.
During my two-hours-and-change with the game (which will be released on March 23rd), I played through five different levels, and each one followed a similar formula—first, the protagonist Pit would fly through an on-rails aerial level, then he would land on the ground to fight through a ground level before facing off against a boss.
The stylus-centric controls weren't entirely intuitive for me at first, but after a little while I got used to them. I'm used to aiming with the stylus in first-person DS games like Metroid Prime Hunters and Dementium, but Uprising's third-person camera is a good deal more disorienting.
The aerial controls are actually fine—aerial sections are essentially on rails, so it's very much a 3D bullet hell game, with enemies circling on all sides and incoming fire flying at you in all different shapes and sizes. At times, the game felt like Child of Eden, actually.
It's on foot where the controls get more awkward, since most gamers are accustomed to using a second thumbstick rather than a stylus to control the camera. Kid Icarus: Uprising will support the 3DS circle-stick attachment (which launches in the US on February 7th), but it's only to allow left-handed players to swap sides—there's no option to play the game with twin thumbsticks. It's stylus or nothing. Fortunately, after I got used to the controls, I found that they gave the game a unique feel and allowed for a good amount of precision when aiming. It never quite felt comfortable, nor did it feel entirely awkward. I suspect that, as with many uniquely control-schemed Nintendo games, after a while it will become easier to wrap my head around. But it still might be a pain in my hands...
As with most things 3DS-related, ergonomics are an issue. I played a lot of Metroid Prime Hunters on the DS, and found that as I did so, my hands would start to cramp and fall asleep after a while. It's simply awkward to hold the DS cupped in your left hand, firing with the left shoulder button, bracing the lower-right corner on your pinky while aiming with a stylus. To address that, Kid Icarus: Uprising will come with a foldable plastic stand designed to hold the 3DS about three or four inches off the ground, theoretically freeing up your hands. (Or as Brian Ashcraft calls it, "a stupid stand!") I found mixed success when using it, and generally preferred to hold the 3DS as I usually do. Otherwise, I was hunched over the desk in an uncomfortable way. Your mileage may vary, and the stand is a nice option to include for free, regardless.