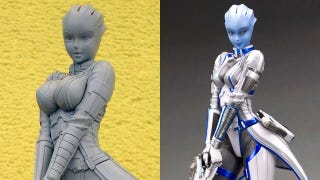 There's a headline I never thought I'd be writing.
In a rare/strange/welcome move, Mass Effect creators BioWare have responded to fan feedback from the initial design for a statue based on the series' Liara and given the piece a breast reduction.
As you can see in the initial shots of the statue here, she was originally quite well-endowed. Which was a little strange given the tone of both the character and the series itself (though, yes, the entire point of Kotobukiya's Bishoujo line is to bring the sexy).