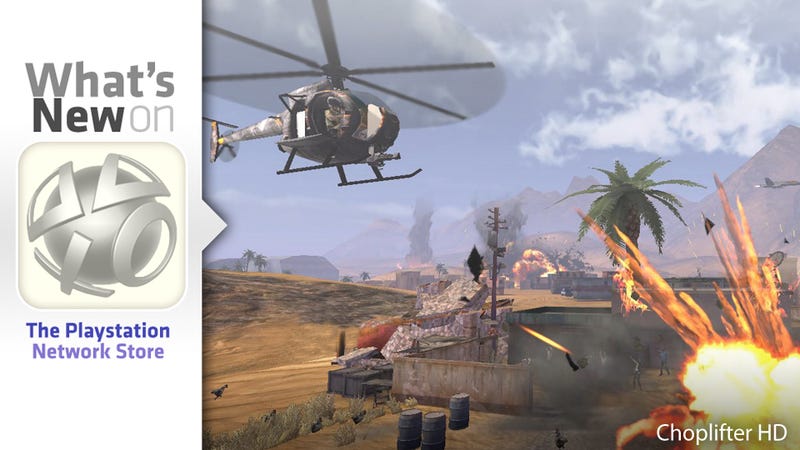 Plenty of updates as usual to the PlayStation online store, with full downloadable games Choplifter HD, Crazy Machines Elements, Toy Story 3: The Video Game (There's a Toy Story 3 video game? Hmm.), as well as the earlier-than-expected demo for Capcom's Asura's Wrath.
That's all well and good, but none of those games can hold a candle to the new tracks for Rock Band 3, which include three hits from the iconic 80's pop duo Hall & Oates. "Maneater," "Private Eyes," and "I Can't Go For That (No Can Do)" are all pretty much worth breaking out the giant plastic drums just to play.
By the way, have you called 1-719-26-OATES yet? Because you really should. Trust me.
Read the full list below:
Games & Demos for PlayStation 3
Crazy Machines Elements + Trial ($9.99)
Choplifter HD ($14.99)
Sports Champions ($29.99)
Toy Story 3: The Video Game ($19.99)
Game Demos
Choplifter Hd Demo
Asura's Wrath Demo
Crazy Machines Elements Trial
Grand Slam Tennis 2 Demo
Final Fantasy XIII-2 Demo
Wanted Corp. Trial
Add-ons, Expansions and Updates
LittleBigPlanet 2 New Year Fireworks Costume (free)
Dante's Inferno DLC Bundle ($17.99)
Dead Space 2 DLC Bundle ($21.99)
Need For Speed Hot Pursuit DLC Bundle ($34.99)
Shift 2 Unleashed DLC Bundle ($34.99)
Ultimate Marvel Vs Capcom 3 -­‐ Brawler Pack ($3.99)
The King Of Fighters XIII Mr. Karate ($4.99)
The King Of Fighters XIII Nests-­‐Style Kyo ($4.99)
Disgaea 4 -­‐ Battleship Gargantua (PSN Exclusive) ($1.99)
Disgaea 4 -­‐ Celestial Host (PSN Exclusive) ($2.99)
Disgaea 4 -­‐ Gargantua Bridge Map (PSN Exclusive) ($0.99)
Disgaea 4 -­‐ Pirate Survival Duel (PSN Exclusive) ($5.99)
Disgaea 4 -­‐ Prism Ranger (PSN Exclusive) ($2.99)
Magic 2012 Deck Pack 3 ($2.99)
Shift 2 Unleashed (Price Change) (PS3) (now $19.99, original price $29.99)
Dante's Inferno Dlc Bundle (Sale) (PS3) (now $14.99, original price $17.99)
Dead Space 2 Dlc Bundle (Sale) (PS3) (now $14.99, original price $21.99)
Dragon Age 2 -­‐ Legacy Pack (Sale) (PS3) (now $7.99, original price $9.99)
Ncaa Football 12 -­‐ All Dynasty Time Savers (Sale) (PS3) (now $7.99, original price $14.99)
Ncaa Football 12 -­‐ Ncaa Fb 12 Power Pack (Sale) (PS3) (now $12.99, original price $24.99)
Need For Speed Hot Pursuit Dlc Bundle (Sale) (PS3) (now $29.99, original price $34.99)
Nhl 12 -­‐ Skater Slap Shot Power Boost 3 (Sale) (PS3) (now $0.99, original price $1.99)
Shift 2 Unleashed Dlc Bundle (Sale) (PS3) (now $24.99, original price $34.99)
Mass Effect 2 -­‐ Arrival Dlc (Sale) (PS3) (now $4.99, original price $6.99)
Tiger Woods Pga Tour 12 Birdie Pack (Sale) (PS3) (now $10.99, original price $14.99)
Tiger Woods Pga Tour 12 Eagle Pack (Sale) (PS3) (now $24.99, original price $34.99)
The King Of Fighters Xiii Nests Style Kyo (Sale) (PS3) (now $2.99, original price $4.99)
Burnout Crash! (Sale) (PS3) (now $6.99, original price $9.99)
Dante's Inferno Super Bundle (Sale) (PS3) (now $19.99, original price $29.99)
Dead Space 2 Super Bundle (Sale) (PS3) (now $44.99, original price $49.99)
DeathSpank (Sale) (PS3) (now $9.99, original price $14.99)
Dragon Age II (Ps3 Full Game) (Price Change) (PS3) (now $19.99, original price $29.99)
Fancy Pants Adventures (Sale) (PS3) (now $6.99, original price $9.99)
Gatling Gears (Sale) (PS3) (now $6.99, original price $9.99)
Nba Jam On Fire Edition (Sale) (PS3) (now $9.99, original price $14.99)
Need For Speed Hot Pursuit Super Bundle (Sale) (PS3) (now $49.99, original price $59.99)
Risk: Factions (Sale) (PS3) (now $6.99, original price $9.99)
Shift 2 Unleashed Super Bundle (Sale) (PS3) (now $49.99, original price $59.99)
Max & The Magic Marker -­‐ Gold Edition (Sale) (PS3) (now $4.99, original price $9.99)
Army Of Two: Fortieth Day Digital Voucher Only (Price Change) (PSP) (now $19.99, original price $39.99)
Burnout: Dominator Legacy (Price Change) (PSP) (now $9.99, original price $14.99)
Dante's Inferno Digital (Price Change) (PSP) (now $19.99, original price $39.99)
Dante's Inferno French Digital (Price Change) (PSP) (now $19.99, original price $39.99)
Fifa Soccer 11 Digital -­‐ English/Spanish (Us And Mexico Store) (Price Change) (PSP) (now $29.99, original price $39.99)
Fifa Soccer 11 Digital English/French (Canada Only) (Price Change) (PSP) (now $29.99, original price $39.99)
Fight Night Round 3 (Price Change) (PSP) (now $9.99, original price $19.99)
Madden Nfl 11 Digital -­‐ Public Release (Price Change) (PSP) (now $29.99, original price $39.99)
Ncaa Football 2010 Digital (Price Change) (PSP) (now $19.99, original price $39.99)
Need For Speed Shift Digital (Price Change) (PSP) (now $14.99, original price $39.99)
Need For Speed: Pro Street Umd Legacy (Price Change) (PSP) (now $14.99, original price $19.99)
Tiger Woods Pga Tour 10 -­‐ Digital (Price Change) (PSP) (now $19.99, original price $39.99)
Blue Toad Murder Files Avatars (x10) ($0.49 each)
Monster Hunter Freedom Unite Avatars (x10) ($0.49 each)
Bundles
Dante's Inferno Super Bundle ($29.99)
Dead Space 2 Super Bundle ($49.99)
Need For Speed Hot Pursuit Super Bundle ($59.99)
Shift 2 Unleashed Super Bundle ($59.99)
PSOne Classics
FINAL FANTASY ORIGINS ($9.99)
Rock Band 3 tracks
"Private Eyes" – Hall & Oates ($1.99)
"I Can't Go For That (No Can Do)" – Hall & Oates ($1.99)
"Maneater" – Hall & Oates ($1.99)
"A Prophecy" – Asking Alexandria ($1.99)
"Ziltoidia Attaxx!!" – Devin Townsend ($1.99)
"Hold Me In Your Arms" – The Trews ($0.99)
"Easy Days" – Free Spirit ($1.99)
"Just a Game" – The Blue News ($0.99)
"Private Eyes (Pro Guitar)" – Hall & Oates ($0.99)
Hall & Oates Pack 01 ($5.49) – Build your Rock Band library by purchasing this song game album: Hall & Oates Pack 01. This pack includes "I Can't Go For That (No Can Do)," "Maneater," and "Private Eyes" by Hall & Oates.

File Size 25 MB – 42 MB (Singles), 95 MB (Track Pack)
Game Videos
Jak and Daxter Collection Announcement Trailer
Escape Plan Features Trailer
Duke Nukem Forever -­‐ The Doctor Who Cloned Me Trailer
The Darkness II -­‐ Vendettas Co-­‐Op Trailer
NFL Blitz Gameplay Sizzle Trailer
Assassin's Creed: Revelations Ancestors Character Pack Trailer
Assassin's Creed Embers Trailer
Themes, Wallpapers & Avatars
Blue Toad Murder Files Avatars (x10) ($0.49 each)
Monster Hunter Freedom Unite Avatars (x10) ($0.49 each)
Twisted Metal Theme (Qore D/L Center Only) (free)
Glowing Jellyfish Dynamic Theme ($2.99)
PlayStation Plus
minis:
Stick Man Rescue

Mecho Wars : PSN Price: $4.99, FREE in Plus
Full Game Trials:
Toy Story 3: The Video Game

Sports Champions
Media:
Qore Episode 44 – January
Avatars and Themes:
Monster Hunter Freedom Unite Felyne Fighter Avatar

Monster Hunter Freedom Unite Lance Avatar

Monster Hunter Freedom Unite Poogie Avatar

Monster Hunter Freedom Unite Avatar Bundle 3 (PS+ Price $0.99)
PSN Games:
Burnout Crash! – 30% off (PS+ Price $4.89)

Crysis – 30% off (PS+ Price $10.49)

Deathspank – 30% off (PS+ Price $6.99)

Fancy Pants Adventure – 30% off (PS+ Price $4.89)

Gatling Gears – 30% off (PS+ Price $4.89)

Risk Factions – 30% off (PS+ Price $4.89)
Add-Ons:
Dante's Inferno DLC Bundle – 30% off (PS+ Price $10.49)

Dead Space 2 DLC Bundle – 30% off (PS+ Price $10.49)

Dragon Age 2 – Legacy Pack – 20% off (PS+ Price $6.39)

Need For Speed Hot Pursuit DLC Bundle – 30% off (PS+ Price $20.99)

Shift 2 Unleashed DLC Bundle: PSN Price: $24.99, Plus discount: 30% off – price: $17.49

Tiger Woods PGA Tour 12 – Birdie Pack – 30% off (PS+ Price $7.69)

Tiger Woods PGA Tour 12 – Eagle Pack – 30% off (PS+ Price $17.49)
PS3 Full Games:
Dante's Inferno Super Bundle – 25% off (PS+ Price $14.99)

Dead Space 2 Super Bundle – 20% off (PS+ Price $35.99)

Shift 2 Unleashed Bundle – 20% off (PS+ Price $39.99)

Need for Speed Hot Pursuit Super Bundle – 20% off (PS+ Price $39.99)