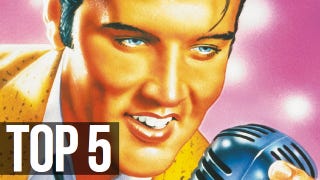 Each week throws off several new video game lists ranging from the humorous to the trivial. What's better? A list of those. Here's a roundup of the rundowns out there.
•Top Five Video Game Elvises [Houston Press] On a cold and gray January mornin' another video game Elvis is born in the Top 5 (in the Top 5 ...) and the readers cry ... because the Houston Press forgot to include Elvis MODOK from Ultimate Marvel vs. Capcom 3
•Six Video Game Cocktails [The Guardian] Now here's some news you can use. The Guardian's Keith Stuart concocts six cocktails based on 2011's best video games, with photographs. By far my favorite is "The Portal Two." Dig that fluorescent rim frosting! "Batman: Arkham Party" wins best name.
•The Top 7 Video Game PR Fails of All Time [Ranker] Yes, I'm sure we all know who is No. 1. His name rhymes with Schmaul Schmistoforo. But there have been half-a-dozen other boneheaded PR stunts and disasters, and, frankly, this list could have gone out to 10 or 15 or even 20.