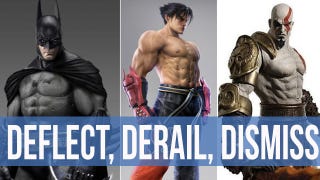 A few months ago, I wrote an article on nerds and male privilege. Maybe you read it.
Believe me, nobody was more surprised than me when it proceeded to go viral and start rocketing around the Internet. It garnered a lot of attention and a metric ton of mixed reactions, some good, some bad, some downright puzzling. It made for a great lead-in as to just how some male behaviors can work against us when it comes to dating and I got to enjoy my five minutes of Internet fame. I sort of figured that this was the end of it and was ready to move on to the next series of articles. I mean, after all, I didn't start this blog to be about gender relations; I'm just a guy trying to help geeks improve their love-lives and get better at dating.
Well, man plans and the gods laugh and all that. It seems as though I'm not quite done with the subject yet.
Y'see, there were certain recurring themes and arguments in the comments, both here, on Reddit and Kotaku, especially regarding my immediate dismissal of entire classes of arguments about whether male privilege – especially as it pertains to geek and gaming culture – exists. And since I'm the sort of person who can't seem to leave well enough alone…