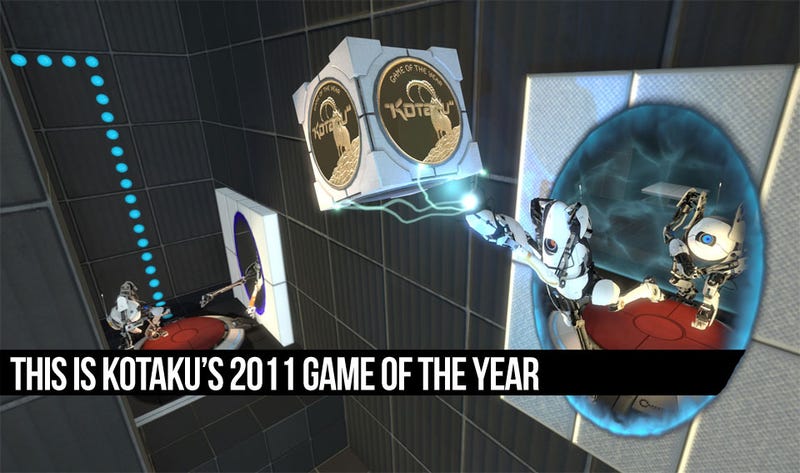 After several weeks of debate, discussion, and deliberation, Kotaku's 2011 Game of the Year Award came down to a simple vote, and the majority voted for science.
We voted for Wheatley, the delightfully ditzy but well-meaning artificial intelligence that unwittingly guided us to our potential doom. We voted for GLaDOS, the power-hungry robot with a heart of solid gold spite, with whom our relationship grew closer and stranger than ever before. We voted for Cave Johnson, founder and CEO of Aperture Science, whose words of wisdom will guide us til the end of our days. We voted for Atlas and P-Body, a mechanical consciousness built for two. We voted for Chell, history's most resilient guinea pig.
We voted for the team at Valve that delivered such a solid and entertaining experience, building an extremely clever puzzle game into something far greater. We voted for Erik Wolpaw, Jay Pinkerton and Chet Faliszek, the writers that kept us in stiches at every turn.
We voted for Portal 2.
Not all of us, mind you, but enough that it would take the assassination of at least two of our editors to make the voting a tie.
The outcome came as a surprise to many of our editors, especially with a powerhouse like Bethesda's The Elder Scrolls V: Skyrim hitting hard and deep so late in the year. Indeed Skyrim was my original pick for Game of the Year (Luke Plunkett's as well), but then it took an arrow in the knee (I am so sorry).