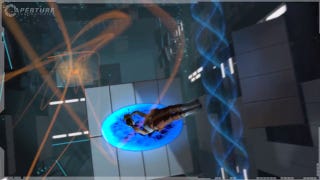 What Valve did this year seemed impossible: they improved on the perfection that was the first Portal. That feat was accomplished, surprisingly, by making everything about players' return to Aperture Science less perfect. We got a scuffed-up, messier experience that resonated more deeply than any other game this year. Can Portal 2 open a rift to the top of this year's GOTY contenders? Let's see.
WHAT I LOVED:
Heart-ificial Intelligence: Portal 2 pulled off an amazing role reversal: it made the humans playing it feel like computers and the dueling AIs vying for control feel human. The character arcs traveled by Wheatley and GLaDOS didn't seem robotic at all, and each AI felt, at turns, poignantly insecure and needy. And, at the end of the single-player portion, I felt like a problem-solving machine, electric and sharp, able to coolly think my way out of the game's inscrutable puzzle rooms.
Broken Beauty: Portal 2 fractured the clean minimalism of its predecessor and created a different kind of splendor by peeling back Aperture Science's gleaming white layers. Playing through the grimy, rusted-over past of the research firm didn't just introduce cool new mechanics. It showed us the aching soul of a beautiful loser named Cave Johnson, and generated an unexpected empathy for GLaDOS.
WHAT I HATED:
Invisible Woman: I wanted Portal 2 to create more of a connection to the series' mute heroine Chell. It's great that other, newer characters get fleshed-out backstories, but that just makes it harder to care the character I'm controlling when she remains a near-total cipher.
Slightly Off-Key: A game's theme song usually doesn't count for much in overall scheme of things. But, c'mon, this is Portal, the series that gave us "Still Alive." After firing that last teleportation blast, I expected a tune that lived up Jonathan Coulton's previous classic. Sadly, "Want You Gone" did nothing for me, even after repeated listens.
---
Kirk Hamilton responds:
I loved the crap out of Portal 2. It was a triumph, a huge success; I'm making a note here, etc. It is an entirely worthy candidate for GOTY, even though in the end I didn't choose it for my own nomination. Here's what I think:
WHAT I LOVED
High-larious - Portal 2 was the funniest game of 2011. The excellent one-off gags, the winning animation work on all of the robots, and Stephen Merchant's show-stealing voice-over performance… I spent 90% of my time with a huge grin plastered on my face. Why can't all games be this funny? I don't know. Writers Erik Wolpaw, Jay Pinkerton and Chet Faliszek, my hat is off to you.
Brainy Gamer - Portal 2 was a real brain-tickler. Solving a tricky puzzle before sending yourself careening through the air to the finish line was one of 2011's great gaming pleasures.
Musical Heart - The way that Valve integrated Mike Morasky's super-cool music into the gameworld was creative, unexpected, and my favorite addition to the Portal formula.