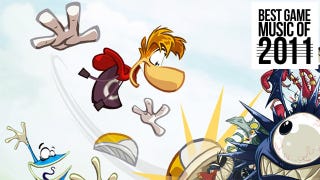 Listen: the first thing you need to know about the music in the newest Rayman game is that it's got some kickass virtuoso kazoo playing.
Yes, kazoo. Like, a plastic one. And it kicks a lot of ass.
That bit of whimsy comes courtesy of Christophe Héral, a musician/composer who's worked on Ubisoft games since 1999. Being a huge Beyond Good & Evil fan, I had a strong suspicion that Rayman Origins' musical identity came from the same guy who created the sonic backdrop for Michel Ancel's 2003 cult classic. One of the things that's made BG&E such a beloved game is a heartfelt soundtrack which punctuated every action thrill and dramatic turnaround in the sci-fi adventure perfectly.
Héral goes in a different direction here, with wacky taking precedence over poignant. There's still some swells of emotion but they take a backseat to giggle-inducing flights of fancy. Nevertheless, the Frenchman's oeuvre remains consistent in its embrace of polyglot sonic recipes. In a game scored by Héral, you'll hear tiki lounge tropicalia, downshifted reggae funk or bamboo flute ballads. He pulls influences from cultures all over the world, making the games he works on feel more universal as a result. More impressively, Héral somehow manages not to overplay the outré elements that he seeds through the Rayman Origins soundtrack. So, the twang of a Jew's harp, the moans of a digeridoo or the woody trill of a marimba never overstay their welcome and never feel like cheap turns of exotica.
For Rayman: Origins, Héral's soundtrack channels the beautiful incongruity that powers Michel Ancel's latest game. Rayman: Origins looks like it sprang to life from a sketchbook—which it kinda did—but it's powered by the cutting-edge UbiArt Framework engine. The music feels the same way: analog yet digital, primitive yet sophisticated.